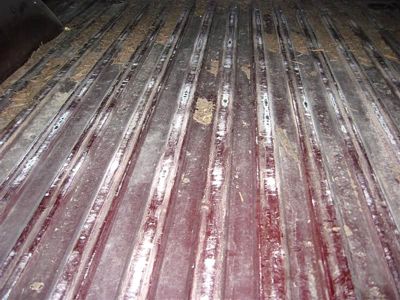 When researching a truck bed liner most people think about the features they want. They want protection from dents and scratches.They want something cost effective, and they want something that looks nice! But when you think about it what you want is only half the story. What about what you don't want?
I know the problems that I've had in the past. I don't want a bedliner that is going to allow my cargo to slide all over the place.There is nothing more annoying then my tool box hitting the load guard when I stop and the tailgate when I take off. If it isn't going to keep my cargo in place then it is not for me!
I don't want a bed liner that is actually going to cause my truck damage. These one piece units really do a number on your pickups factory paint. There is a pretty good pic here in this article showing what in most cases will happen if you go that route. To say the least, that isn't pretty.
I don't want a bedliner that is going to fade in the sun! If I buy a black bed liner today, I still expect it to be black tomorrow. Which ones are you looking at? Is sun fade a common complaint? With many spray ons that is a common complaint and not something covered in the warranty, so the cost of the fix will be on you!
I do not want a bed liner that is going to have to be resprayed every one to two years. When I do a job, I try and do it right the first time. I do not expect to have to do it over and over again. I will not once again be duped into buying a spray on that has to be resprayed every year or two due to sun fade or scratching or gouging. That was what I was trying to protect my truck from in the first place. If the product can't do the job then don't buy it. Plain and simple!
This is the reason that the DualLiner is able to thrive. We addressed these issues. We saw the need for a real lifetime warranty. We saw a need fora zero skid surface. We realized that sun fade is a serious issue. Get yours today!