RVs might be the most popular thing under the sun right now when it comes to going off the beaten path and camping in the great outdoors. However, you don't need an RV to enjoy nature. All you need is a pickup truck–and a truck bed tent.
The great thing about camping with just your truck as opposed to an RV is that you can camp just about anywhere your truck can reach. Let's take a look at the ins and outs of truck bed tents.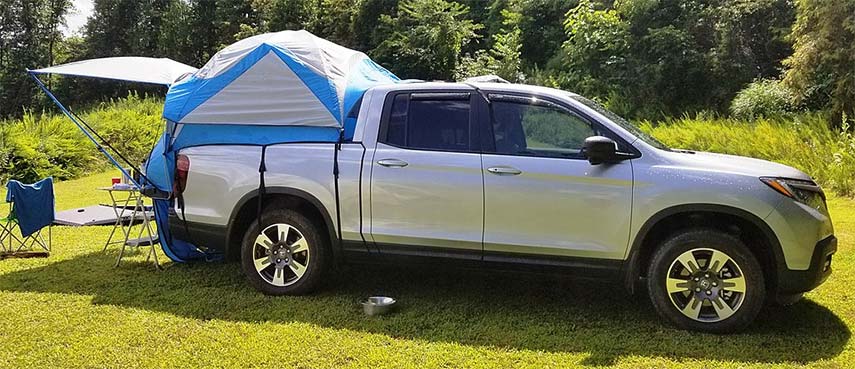 Image copyright Edison Lu under the Creative Commons Attribution-Share Alike 4.0 International license
What Is a Truck Bed Tent?
A truck bed tent is more or less what it sounds like–a tent set up in the bed of a pickup truck. The tent uses the truck bed as a foundation and floor for the tent.
Truck bed tents can work with any kind of truck bed, whether long or short. As truck bed tents aren't particularly large, they work best for one or two adults.
Truck bed tents are different from rooftop tents, which tend to be geared more toward SUV owners. Truck bed tents are also different from truck bed campers, which provide more room and options for camping.
Truck bed campers provide an experience closer to an RV, while truck bed tents are simpler and won't weigh your truck down during travel.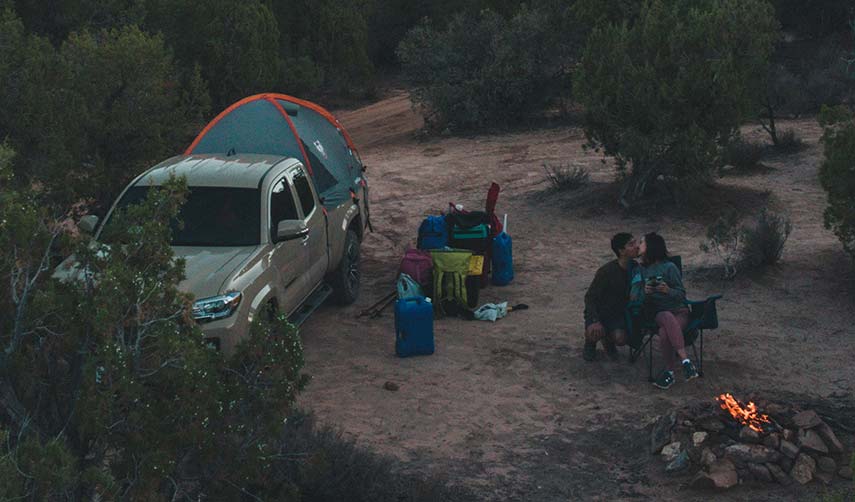 How Comfortable Are Truck Bed Tents?
Truck bed tents can be just as comfortable as a regular ground tent, but there are some things you can do to make them more comfortable. The first thing you should do is make sure that your truck is equipped with a bed liner.
However, not all truck bed liners are made equal. For example, the rubber no-skid mat that comes with DualLiner bed liners will yield a much more comfortable sleeping surface for a truck bed tent versus other bed liners with ridges and channels.
It also ensures that the truck bed liner fits precisely to your truck bed and keeps everything in place. Another way to make things more comfortable is to invest in a quality air mattress.
Let's take a look at some of the top-rated truck bed tents available on the market…
Napier Backroadz Two-Person Truck Bed Tent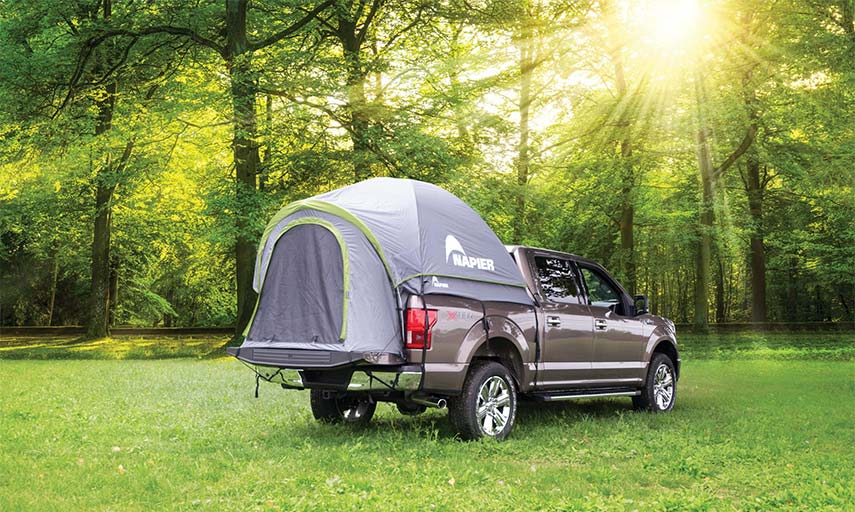 This Napier Backroadz tent is a compact tent ideal for two people. It offers two large mesh windows for plenty of ventilation and a large interior area that provides generous headroom. Color-coded poles make this tent easy to set up in about ten minutes.
A lantern holder in the center of the tent is a convenient place to hang a light, and the tent also offers a designated storage pocket to organize your gear. This is one truck bed tent that is versatile enough to be set up on the ground and then moved into the truck bed if necessary.
Fofana Truck Bed Tent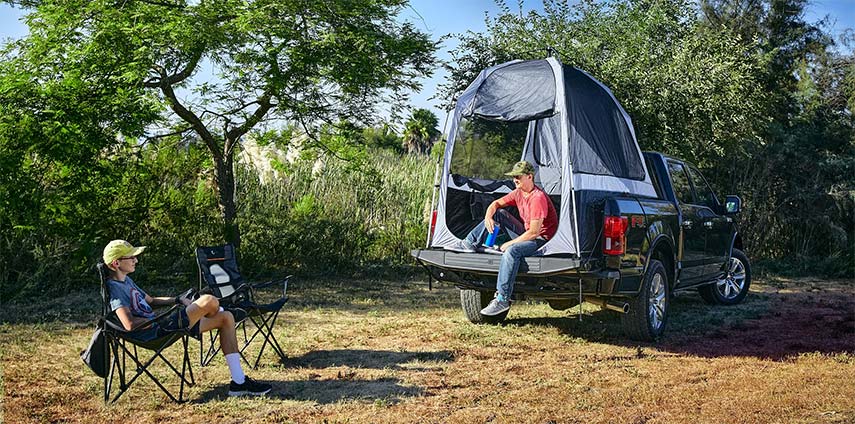 The Fofana truck tent is also very easy to install with clear instructions. It comes in a variety of different colors and designs, so you can get one to fit your needs and match your truck.
The Fofana tent is made of light and durable materials, so it's a good choice for warm-weather camping. As with most truck bed tents, this tent is best for two people. It comes with a front awning that covers the rear of your truck bed.
Kodiak Canvas Truck Bed Tent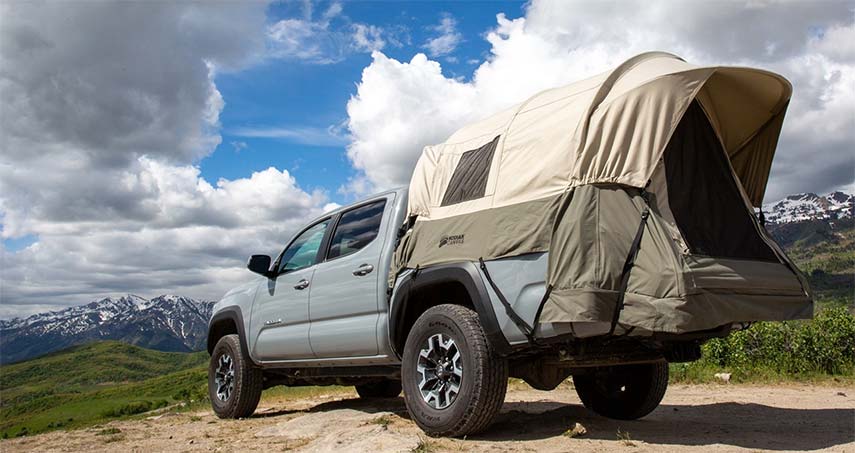 For the roughest conditions, the durable Kodiak Canvas truck bed tent is ready to take on nearly anything the outdoors can throw at it. It offers a watertight and waterproof exterior made of 100% cotton duck canvas.
A front awning adds extra protection from the elements and the interior features several gear pockets to stow things. The main downside of this tent is that it doesn't come with its own floor and it is on the expensive side.
This makes it less comfortable than tents that do come with floors. However, if you need a tent to hold up in extreme conditions, it's hard to beat the durability.
Guide Gear Full-Size Truck Bed Tent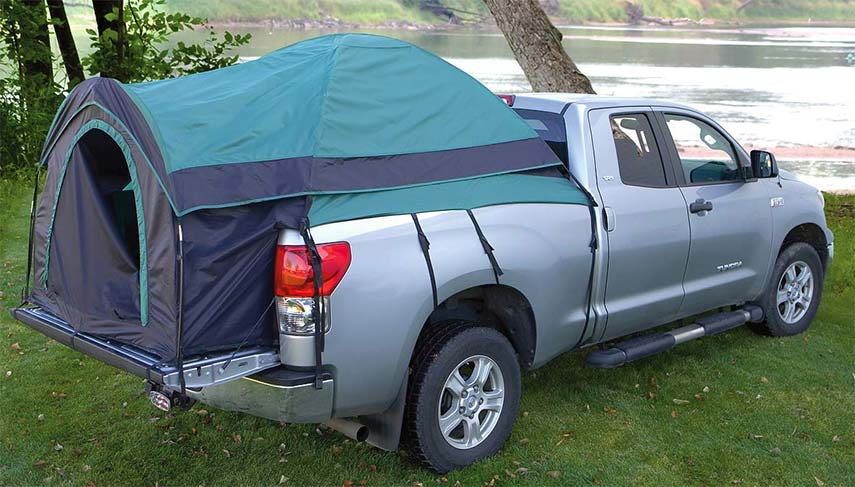 Another durable truck bed tent is the full-size one by Guide Gear. Buyers report that this tent easily handles rain and snow while keeping occupants dry. This is due to its 190T polyester construction with a 1,500 mm water-resistant coating.
The mesh windows provide plenty of ventilation and the included polyethylene floor ensures that your bedding will stay dry. The only downsides to this tent are somewhat unclear setup instructions and some buyers also report fit issues with full-size truck beds.
Rightline Gear Compact Truck Bed Tent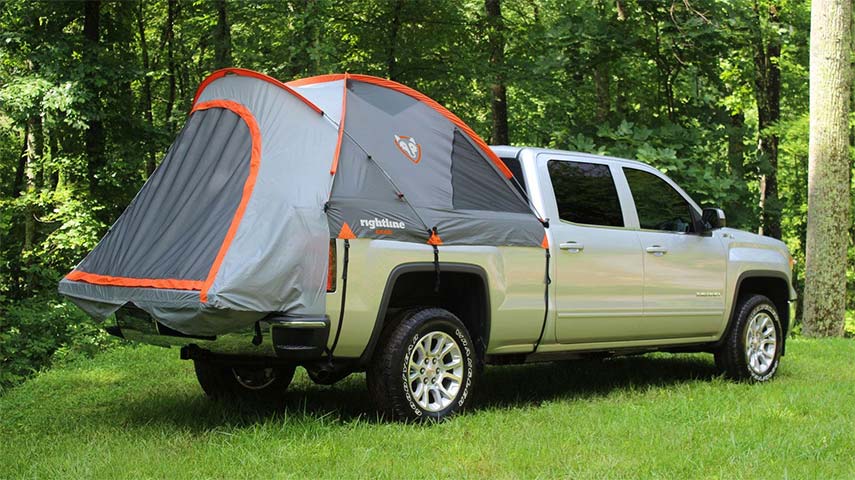 If you have a compact truck or a short-bed truck, you might consider this compact truck bed tent from Rightline Gear. This tent features a smaller size made for smaller beds.
It weighs only ten pounds, is very affordable, and offers zipper pulls that glow in the dark and fully-taped seams. Inside, you'll find plenty of storage pockets and several mesh windows for ventilation. As this is a compact tent, it might feel cramped for taller campers.
Regardless of which truck bed tent you choose for your truck, you can protect your bed and make camping more comfortable with a bed liner from DualLiner.
Our truck bed liners are designed for a precise custom fit in most domestic full-size trucks. Bed liners keep your truck bed safe from the wear and tear of everyday use.