If you're one of the many truck owners who tow with a 5th wheel or gooseneck hitch, you know how difficult it can be to properly protect your truck bed from damage without losing valuable cargo space. While most 5th wheels or gooseneck hitch can be removed so that you can use the full capacity of your truck bed, most drop-in or spray-in bed liners have serious drawbacks once your hitch is out of the bed.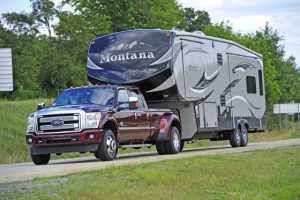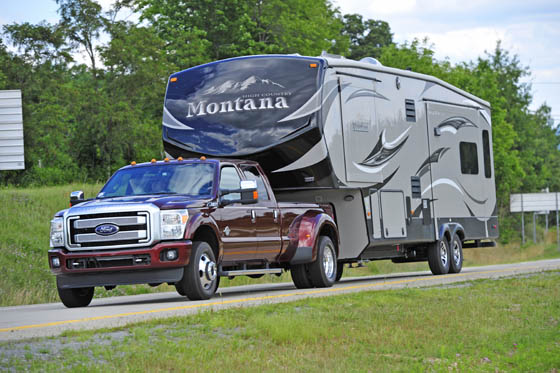 One of the biggest drawbacks in using a hitch with a spray-in liner is when it needs to be installed. Usually, you'll need to have your hitch installed before the bed is sprayed for the best protection. Even though the liner material can be cut without too much effort if your truck was already sprayed, modifying the integrity of the bed liner material will often void the warranty and leave the surface of the bed more susceptible to damage from dirt and water. But even if the hitch is installed before the liner is sprayed, you'll still have some pretty big holes in your bed that the liner can't cover when the hitch isn't needed.
A plastic drop-in liner also needs to be modified to fit a 5th wheel or a gooseneck hitch, but the only advantage is that you don't really need to install the hitch first. A one-piece drop-in liner can be removed and cut for clearance much easier than a spray-in liner can. But a drop-in liner still won't ever provide good bed protection after it has been modified. You'll always have two slots or a hole for the gooseneck ball in your liner that let dirt and water through to damage your bed surface. Plus, those holes can catch on whatever you have in the back, making it harder to load and unload your cargo. Sure, you could remove the bed liner when you need to install the hitch and leave your bed without any protection at all, or you can have a second one without holes in it. But who wants to go through all the trouble of swapping a huge plastic bed liner, or spend the money to buy two of them!
The DualLiner system is better because of three big advantages. First, if you don't want to cut holes to clear your hitch's mounts, you don't have to. Because the DualLiner system is modular, you can easily remove the ZeroSkid® rubber floor mat and roll it up and store it wherever you want when you need to install the hitch. But if you'd like to keep the bed protection properties of the 3/8in thick rubber mat, you can cut it to fit around your hitch without special tools. And if you want both, you don't have to buy a whole second liner, DualLiner offers our customers the option to buy a second ZeroSkid® rubber floor mat, you can simply swap the one with clearance holes for a regular floor mat with complete protection of your bed surface. DualLiner is the only bed liner system that allows you to have the best of both worlds!
The second big advantage of the DualLiner system over less advanced spray-in or drop-in liners is the noise and vibration dampening you get when towing. With a trailer attached directly to a big empty metal box, any vibrations transmitted through your hitch will be amplified. This includes normal road noise, exhaust drone, and even the normal rattles from the hitch. When the ZeroSkid® rubber floor mat is installed it dampens the natural vibration of the bed and mutes much of the noise that can come from a 5th wheel or gooseneck hitch. Not only will this lessen driving fatigue when towing for long distances but it also improves the feeling of quality in your truck and trailer rig.
Click for Bedliner Comparison Chart>
Click for DualLiner Step-by-Step Installation Guide>