It's another beautiful fall weekend, which means just one thing: Football and tailgating season! At DualLiner, it's one of our favorite times of year. There's not much better than getting a great pre-game parking spot, firing up the grill, having a few beverages with friends, and the excitement in the run up to kick-off. Tailgating is truly a great American pastime. Fortunately we've put together our best list of "Do's and Don'ts" for tailgating season that are sure to make your game day get-togethers the best they can be.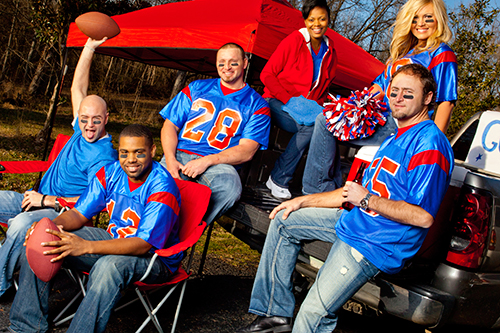 DO Wear Your Team Jersey
Wearing team colors with your favorite player's name and number on your back are not things you'd normally do in regular public and the tailgate lot is not the place for a polo shirt and khakis. Jerseys are practically required in the lot, just like the field. Wear your colors proud! We might suggest not painting your face until game time. It makes it a little hard to eat.
DO Make Sure You Bring Enough
You can easily find a cooler that's big enough for the game at your local store. The problem with conventional bedliners is that once you load it up with all the drinks, food, and ice you need, it becomes very heavy. Having a 40 or 50 pound cooler sliding around in your truck bed can cause some damage. Even more if your crew is hungry enough for two coolers! That's why DualLiner uses a ZeroSkid 3/8-inch thick rubber mat for the floor.
DON'T Come Empty Handed
This is about courtesy. Don't expect your friends to feed you and keep a beer in your hand throughout the day. No matter if you coordinated with your friends ahead of time, or if you're just showing up, bring something to trade or to offer up to the communal spread. It's not just food either: a stereo and speakers or even just another truck bed to hang out in, it all adds something to the experience for everyone. One great thing to bring is a generator, which brings us to…
DO Have Extra Power On-Hand
Having back-up power is a necessity for a great tailgate party. The extra juice a generator provides can come in handy to power things like a killer stereo, your amazing hangout, and even just keeping a charge on your phone. The problem with bringing a generator is that they can be loud, especially when running in a big empty metal box like the bed of your truck. With DualLiner's ZeroSkid rubber floor, you place a shock absorbing layer between the vibrating generator and bare sheet metal, quieting the noise so you can turn up the tunes!
DON'T Leave a Mess
First let us say, if you're not cooking, you're cleaning. That's just common courtesy. Get all the trash in bags, the gear packed up and make sure the grill is out. However, there are some things that need to be cleaned at home with the hose, particularly if you hauled the trash out in your truck or if some food and drink got spilled back there. A lot of the bed liners on the market today will scuff the bed's paint and make it too easy for water to pool, causing problems with rust down the road. DualLiner uses molded-in rubber nibs underneath which gives you protection from a scuffed bed plus unbeatable water and air flow, so water doesn't get trapped and your bed stays perfect. And if you really want a deep clean, the ZeroSkid mat can be easily removed so you can wash the bed directly!
DO Have Fun!
Win or lose, what's most important is having a good time with friends and making memories to last a lifetime – just like DualLiner's real lifetime bedliner warranty!