More and more, we're hearing horror stories about spray-in bedliners. Perhaps it's that more people are buying spray-ins now than ever before, so there are more complaints. Or perhaps it's that growing competition among spray-in installers, and the new batch of do it yourself spray in bedliner products are resulting in lower quality work, as installers are cutting corners to keep costs down.
Regardless of the root cause, spray-in liner problems seem to fall into the same four categories
Overspray on cabs, quarter panels, bumpers, and more
Cracking, peeling, and/or bubbling
Severe to moderate fading, even on "no fade" color-match liners
General customer service problems with installers
As a result of these problems, more and more people are searching for spray-in bedliner alternatives.
We've assembled a list of alternatives, with pros and cons for each option. Hopefully, this info can help you make the right choice.
Option 1: Do it yourself Spray in bedliner or Roll-On Bed Liner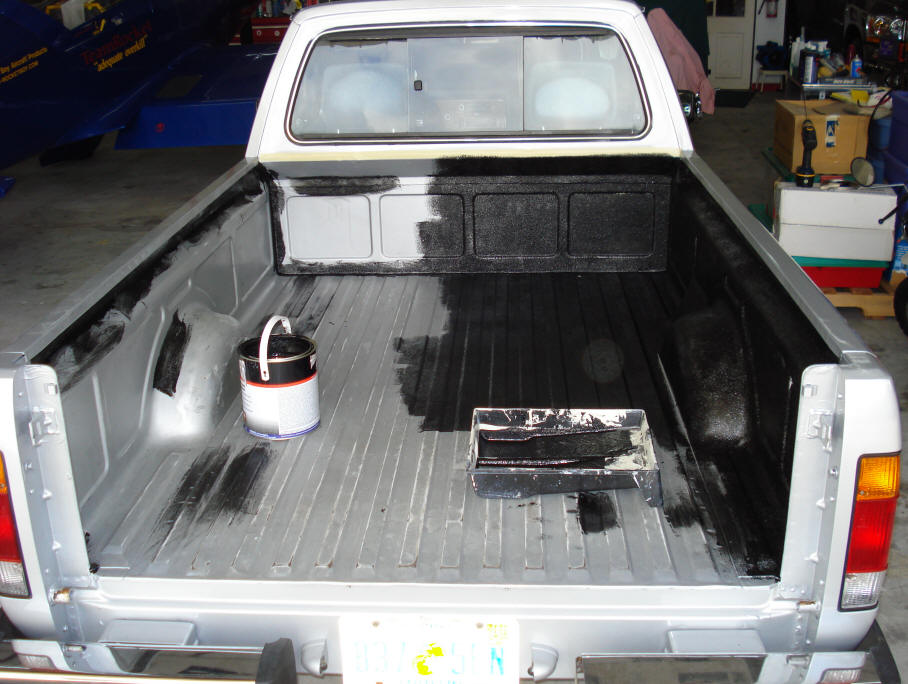 Do it yourself Roll-on bed liners – aka brush-on, paint-on, or DIY bed liners – are becoming popular because of their low price, wide availability, and seemingly easy installation process. There is even a new breed of do it yourself spray in bedliner that sells itself as being closer to a professionally installed product, but don't be fooled!
Essentially, these do it yourself spray in bedliner products or roll-on products are "installed" the same way that you might paint a wall in your home.  Open up a can of "goop," break out some brushes and rollers, or a home spray gun and go to town.
However, a do it yourself spray in bedliner or roll-on bedliner paint is nothing like house paint, at least once you get past the obvious similarities. Roll-on bed liner kits require:
A perfectly clean bed surface
Most do it yourself spray in or roll-on bedliner products require you to sand away your factory paint (or at least scuff it) prior to install, otherwise the material doesn't fully adhere to the bed
A well-ventilated installation space and safety equipment (mask, goggles, and gloves) for the installer
A do it yourself spray in bedliner also requires the additoinal expense of a consumer-grade spray gun which can be tricky to use for a novice
If you've ever painted a garage floor with epoxy sealant, you've got an idea about what these DIY bed liner kits involve. It's messy work, and it's easy to mess up.
The Pros
Very cheap – you can buy a bucket of goop for as little as $50
You can do it yourself
The Cons
Careful prep is essential – if you cut a corner, your DIY bedliner is going to peel, bubble, or crack in a matter of weeks or months
Application is almost always uneven – you'll see areas where the material is thicker or thinner than the rest of the truck. If it's too thin or too thick, it will fail
What you save in dollars you lose in time and miscellaneous materials – you'll buy cleaner, tape, brushes, sand paper, etc., and then you'll spend hours working
There are no do-overs. If you mess up, you own your mistake.
If you're a generally handy person who has some spare time, if you don't mind the idea of getting a little dirty or working with noxious chemicals, and if you're very diligent, a do it yourself spray in bedliner or roll-on bed liner kit might be a good option for you.
But if you're not handy, if you're not very diligent, if you don't have a lot of time, or if the thought of working with a bucket full of toxic epoxy doesn't do anything for you, this probably isn't the best alternative to a quality spray-in bedliner installation.
Option 2: Rubber Mats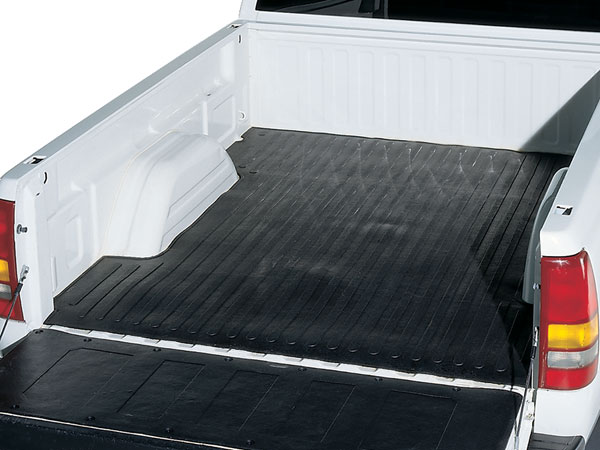 If you're looking for a simple and affordable alternative to a spray-in liner, a rubber mat is definitely worth considering.
While rubber mats don't protect the sidewalls of your bed, they usually do a good job of protecting the floor of the truck bed. They also tend to a do a good job of keeping cargo in place. Provided the mat is designed to breath and to keep the factory truck bed drain holes clear, you won't have any problems with water building up under the mat and causing rust/mildew.
The Pros
Easily installed and removed
Very inexpensive
Helps keep cargo from sliding around
Cons
Minimal coverage – only the floor of the truck bed is protected
If the mat isn't designed to channel water to the truck bed's factory drain holes, you may have problems with water collecting under the mat
Option 3: Plastic Drop-In Liners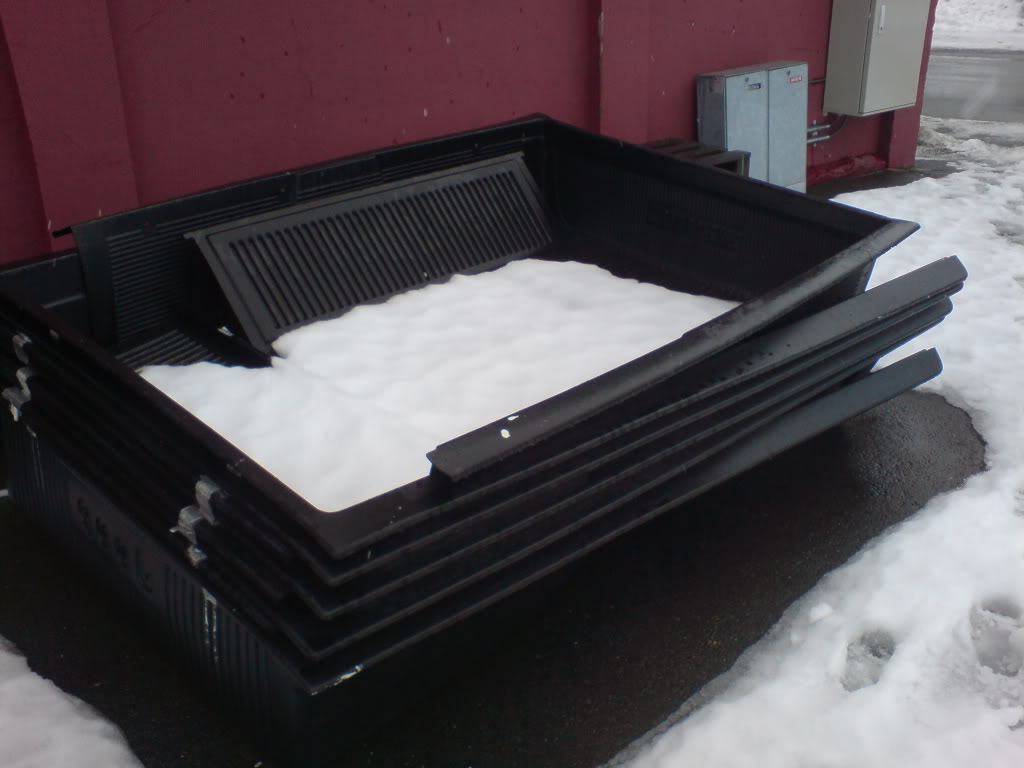 Plastic drop-ins used to be the "latest and greatest" idea in bedliners. They were billed as incredibly durable and rugged, and their low asking price made them quite popular for a time.
Of course, in the years since the plastic drop-in liner has come out, a lot has changed. Consumers have learned that plastic liners are "slippery," which means cargo slides around in your truck instead of staying put. They've also learned that a plastic liner which isn't carefully installed or manufactured can fit very loosely, causing damage to the truck's bed.
The Pros
Fast installation
Usually very cheap
Prevents dents in the sidewalls (at least if the plastic is rugged enough)
No prep work needed
The Cons
Doesn't always fit correctly, which can lead to damage to the truck bed
Cargo isn't secure and tends to slide around
Option 4: Component Liners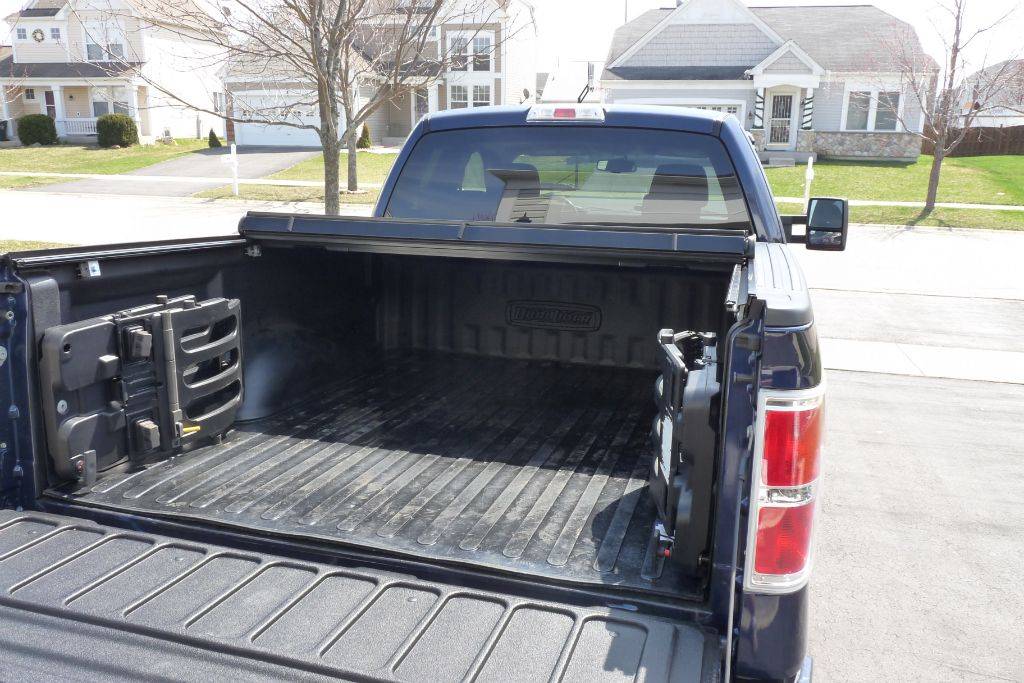 A component bed liner is a multi-piece system that combines the benefits of a plastic drop-in liner and a rubber mat.
The DualLiner is a component system that features
Rugged, form-fitting plastic coverings for your truck bed's sidewalls and tailgate. These heavy plastic panels prevent dents to your truck's bed.
A durable rubber floor that protects the bed and controls cargo.
Unlike the typical "cheap" plastic liner, each plastic component on a DualLiner is precisely manufactured to fit your truck bed's form and dimensions. This ensures the panels fit tightly and don't "flop around," causing scratches.
The rubber floor used in a DualLiner is considerably more advanced than a simple rubber mat. First, the bottom surface of the DualLiner's rubber floor is "bumpy," which allows air to circulate underneath. Second, the DualLiner's rubber floor is designed to channel water to the bed's factory drain holes. Because the rubber "breathes" and channels water to drain away, there are no concerns with rust or mildew forming underneath.
While we're obviously a bit biased, we think the DualLiner is the best option available on the market today. Unlike spray-in liners, the DualLiner both prevents dents AND controls cargo. Most spray-in liners don't really do either of these things.
The Pros
Easy installation – we've got lots of videos of kids installing these liners to prove it
The plastic sidewalls and tailgate protector are form-fitted to your truck
The rubber floor of the bedliner is super-sticky – it controls cargo better than any other liner
The DualLiner costs less than most spray-ins
The DualLiner warranty doesn't exclude commercial use and isn't limited to the first owner (which can't be said for the most popular spray-in bedliners)
The DualLiner is removable, which means you can take it out of your old truck and put it into your new truck no problem (assuming of course the truck bed dimensions are the same)
You don't have to worry about installation issues, overspray, exposing yourself to toxic chemicals, the learning curve of installing a do it yourself spray in bedliner, etc.
The Cons
When you use the DualLiner, there are no cons. We've worked very hard to make our product the best bedliner on the market.
Which Spray-In Bedliner Alternative is Best?
As you can see, there are a lot of alternatives to spray-in liners. As more and more people experience the downsides associated with spray-ins, and as bedliner installation prices keep increasing, it stands to reason that alternatives will become more popular.
As far as the best alternative, we'll leave that up to you.
Click for Bedliner Comparison Chart>
Click for DualLiner Step-by-Step Installation Guide>