The drawbacks of spray-in bedliners are well known. One of the most notorious issues is that installing them requires you to sand down the paint on your truck's bed, damaging your paint job and potentially voiding your warranty. There are several other issues, including overspray, where the spray-on material gets stuck on places it doesn't belong, plus cracking and peeling, fading, and dissatisfaction over poor quality.
If you, like many other truck owners, think spray-in bedliners are frustrating, don't fret! There are other options out there.
We've compiled a list of bedliner options for you, so read on and find the best fit for your truck!
OPTION 1: DO IT YOURSELF SPRAY IN BEDLINER OR ROLL-ON BED LINER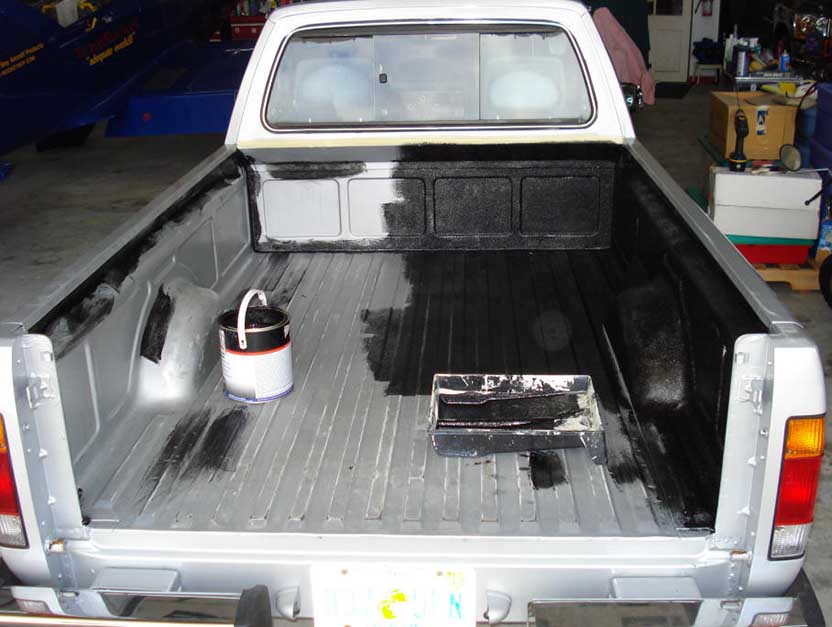 At first glance, DIY (Do It Yourself) roll-on bed liners seem like a sensible option. They're affordable, widely available, and seem easy enough to install. But don't be fooled! This professional-looking product is anything but.
Installing your own roll-on bedliner is a lot like painting a wall at home. It comes in a can, like paint, and can be installed using brushes, rollers, or a spray gun. But the similarities end there. Applying a roll-on liner is much more difficult.
If you're looking at a roll-on bedliner, you need to be prepared for the following:
A completely clean bed surface
Whether it's a spray-in or roll-on bedliner, they still require you to sand away your factory paint before installing it. Otherwise, the material won't stick to your truck bed.
A well-ventilated workspace is a must! As is the proper safety equipment: mask, goggles, and gloves
You may need to use a commercial-grade spray gun to install it. These spray guns can be incredibly tricky for novice DIY-ers to use.
If you've ever worked with epoxy sealant, roll-on bed liners are a lot like that. They're messy, cumbersome, and easy to mess up.
The Pros
Very cheap – you can buy a bucket of goop for as little as $50
You can do it yourself
The Cons
DIY roll-ons are easy to botch. If you aren't careful, your bedliner will peel, bubble, or crack in only a matter of months.
Application is almost always uneven – you'll see areas where the material is thicker or thinner than the rest of the truck. If it's too thin or too thick, it will fail
There's a huge risk of uneven application. There will probably be areas of the liner that are too thin or too thick. If your liner is uneven, it will fail.
The bucket of goop is cheap, but you'll need to spend money on tons of extra materials: cleaner, tape, brushes, and sandpaper. It's a very involved project, and this DIY takes several painstaking hours to complete.
There are no do-overs. If you make a mistake, you own that mistake.
If you're a seasoned handyman with tons of spare time, who doesn't mind getting dirty or working with hazardous chemicals, spray in or roll-on bedliners might be a good option for you. But if you're not handy, careful, or you're pressed for time, you may want to look at other options.
OPTION 2: RUBBER MATS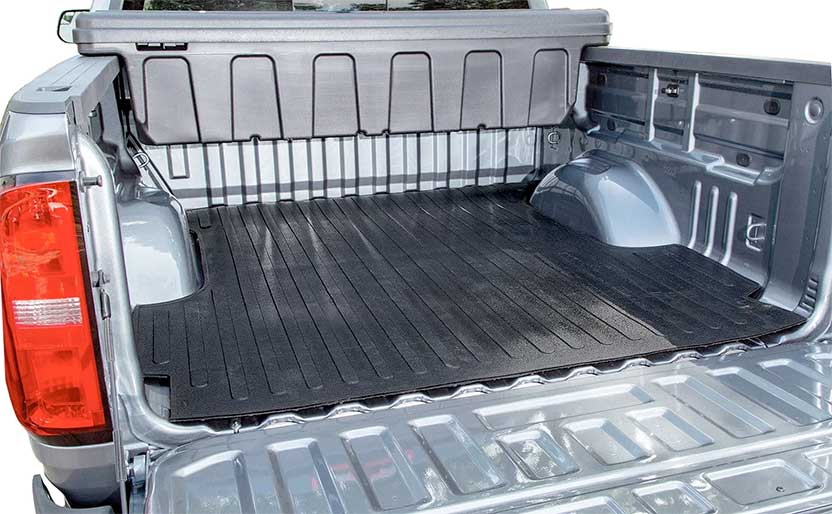 If you want a liner that's just as affordable, but much simpler, than roll-on bed liners, rubber mats are a solid choice. They're a lot easier to install and don't require extra materials.
Rubber mats aren't able to protect the sidewalls of your bed, but they do a decent job protecting your truck bed's floor. They'll also keep your cargo in place while you're driving. If you buy a good mat that's made from breathable materials and doesn't cover your bed's drain holes, then you don't have to worry about water building up under the mat. If water builds up under the mat, your bed can rust or grow mildew.
The Pros
Very easy to install and remove
Inexpensive
Helps keep cargo from sliding around
Cons
Minimal coverage – only the floor of the truck bed is protected
If the mat isn't designed to channel water to the truck bed's factory drain holes, you may have problems with water collecting under the mat
OPTION 3: PLASTIC DROP-IN LINERS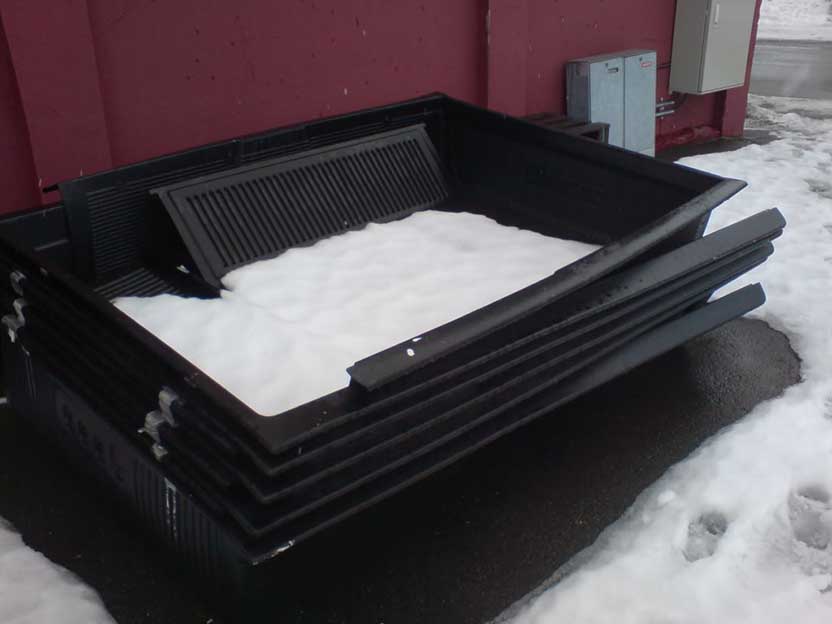 Plastic drop-in bedliners were once a popular option. Billed as the "latest and greatest" innovation in bedliners, they were promoted as rugged, durable, and affordable.
However, a lot has changed since plastic drop-in liners were introduced. Consumers realized they were slippery and caused your cargo to slide around your truck bed. They can also cause damage to your truck bed if they're a loose fit or not carefully installed.
The Pros
Fast and easy installation
Usually very cheap
Prevents sidewall damage (if the plastic is rugged enough)
No prep work needed for installation
The Cons
Doesn't always fit correctly, which can lead to damage to the truck bed
Cargo isn't secure and tends to slide around
OPTION 4: COMPONENT LINERS
A component truck bed liner, like its name suggests, is a multi-piece system. It uses different parts to combine the benefits of both plastic drop-in liners and rubber mat liners.
DualLiner's system is a component truck bed liner that contains the following features:
Rugged, form-fitting plastic coverings for your truck bed's sidewalls and tailgate. These heavy plastic panels prevent dents to your truck's bed.
A durable, non-skid rubber floor that protects the bed and controls cargo.
Typical plastic liners can be cheap and ill-fitting, but each plastic part from DualLiner is custom-designed to fit your truck's dimensions. That gives you an exact fit that prevents your panels from being too tight or too loose, which can cause scratches to your paint job. Unlike spray-in liners, DualLiner both prevents dents and keeps your cargo safely in place.
DualLiner's rubber mat contains much-needed upgrades as well. It's way more advanced than the simple rubber mats you can buy. The bottom contains bumps that allow for better air circulation, so water doesn't get trapped underneath. It also has a special design that channels water towards your truck bed's factory drain holes, eliminating any chance of rust or mildew.
We know we're biased, but we think that DualLiner's solution is the best bed liner option on the market!
The Pros
Easy to install – a kid can install these liners, and we have the videos to prove it!
Custom-fit plastic sidewalls and tailgate protectors
The rubber floor of the bedliner is super-sticky – it controls cargo better than any other liner
Costs less than most spray-in liners
The DualLiner warranty doesn't exclude commercial use and isn't limited to the first owner (which can't be said for the most popular spray-in bedliners)
Unlike spray-in liners, the DualLiner is removable. If the trucks have similar dimensions, you can take it out of one truck and drop it in another
You don't have to worry about any of the installation issues that come with spray-ins: overspray, toxic chemicals, and a steep learning curve
The Cons
When you use the DualLiner, there are no cons! We've worked very hard to make our product the best bed liner on the market.
WHICH SPRAY-IN BEDLINER ALTERNATIVE IS BEST?
We've made it clear there are tons of problems with spray-in liners. Rubber mats and plastic drop-in liners don't always provide enough protection either. That's why DualLiner has made a solution that combines the strengths of rubber and drop-in liners while eliminating their weaknesses. As bedliner installation prices continue to skyrocket, people will need alternatives more than ever.
What's the best alternative bed liner? We'll leave that up to you, but we think DualLiner's quality speaks for itself!