If you're thinking about camping in your truck, the most popular option is a truck bed camper. There are two main types of truck bed campers: slide-in campers and pop-up truck campers.
Before getting a truck bed camper installed, it's important to outfit your truck bed with a bed liner by DualLiner. A truck bed liner will ensure that your truck bed is not damaged by the truck camper or anything else.
Slide-In Truck Bed Campers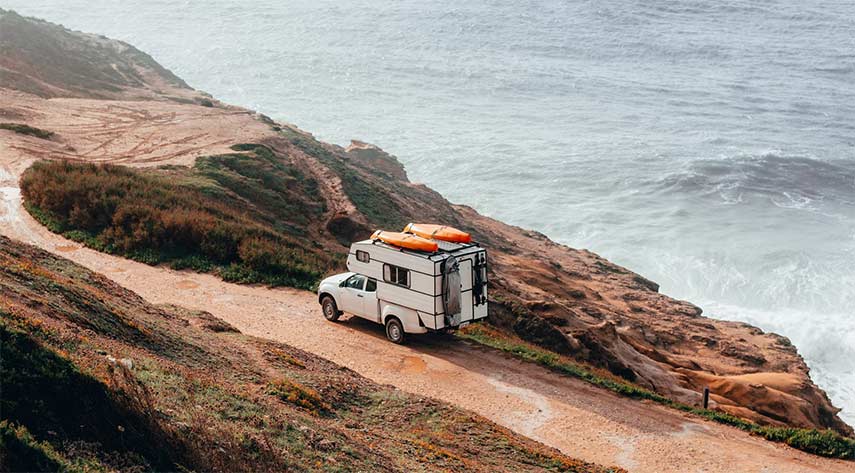 This type of camper slides into the bed of your truck and is carried along in the bed as you drive. The slide-in camper is the most common type of pickup bed camper and the one most people think of when they visualize a pickup camper.
These campers have hard sides and offer most of the amenities of a regular RV. They have sleeping areas, sitting areas, a bathroom, and a kitchen.
Slide-in pickup campers are built similarly to a regular RV except that they don't have a base frame.
Since they don't have wheels or a drivetrain, slide-in campers don't require the same kind of frame structure. Instead, they usually have aluminum or bonded fiberglass walls. Insulation usually consists of fiberglass batting or foam sheets.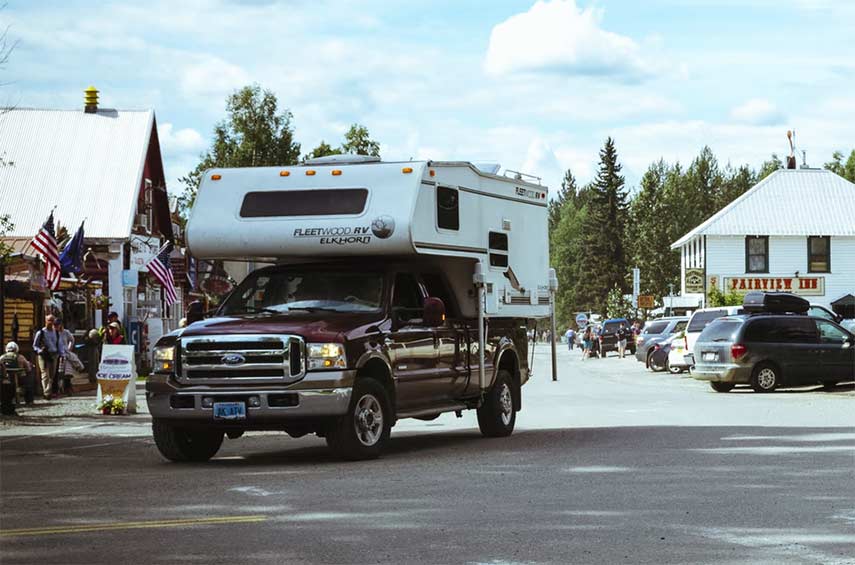 Length of a Slide-In Camper
The length of this type of camper depends on the length of the truck bed. The camper will either overhang the bed by a few feet or it will stop at the back part of the pickup bed. The overhang usually extends below the bed of the truck, which may give you room for storage or sometimes even a generator.
Lighter campers are available for midsize or compact trucks, but these campers have fewer amenities in order to keep the weight lower.
Campers for full-size trucks are naturally bigger and have a lot more room for amenities. There are also the super-long 12-foot truck bed campers, but these require a dually HD truck and a long bed.
Some truck bed campers in this style are known as cab-over campers because they overhang the cabin of the truck. This usually allows room for the main camper mattress. Not all slide-in campers are cab-over campers.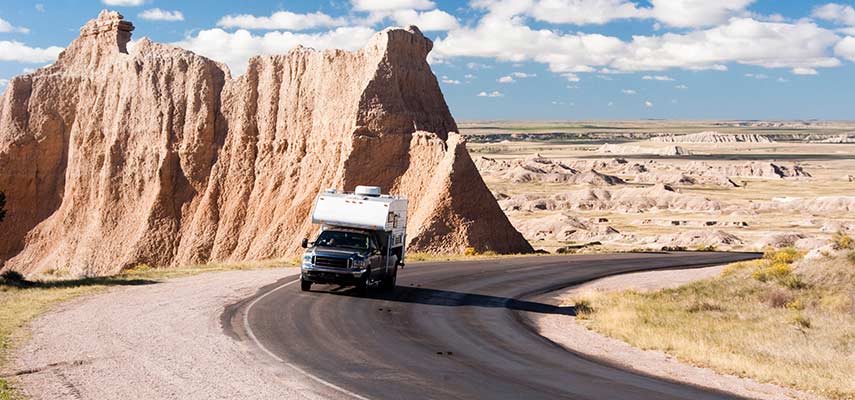 Pros and Cons of Slide-In Campers
Pro: Compact size but full features of an RV.
Pro: Many models are available to fit anything from a midsize to a one-ton truck.
Pro: Can slide out and stand alone when you get to your camping spot, which allows you to use your truck unencumbered.
Con: Can make your truck top-heavy.
Con: Not much storage space is available inside or outside.
Con: Inside can be somewhat cramped due to the short length.
Popular Slide-In Camper Brands
Arctic Fox Campers – This is a popular brand that you've probably seen around. Arctic Fox Campers are made by Northwood Manufacturing in LaGrande, Oregon. These are aluminum framed campers with a pinch roll system.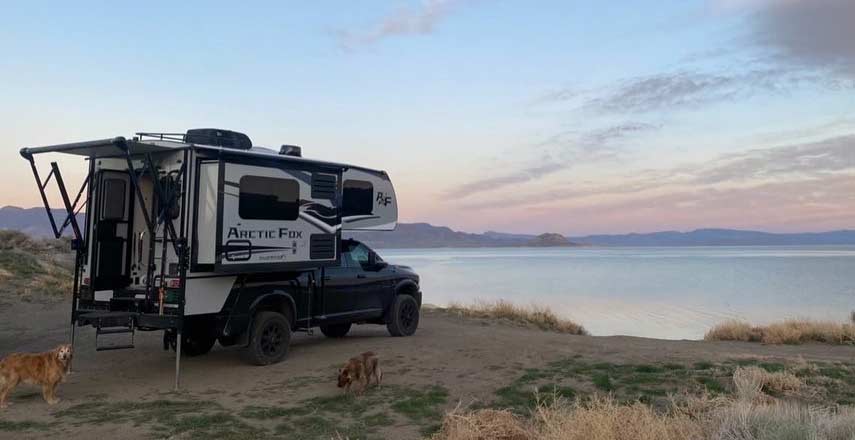 ---
Bigfoot Campers – These campers are made in British Columbia and are constructed from molded fiberglass. There are nine models of hard side campers by this brand.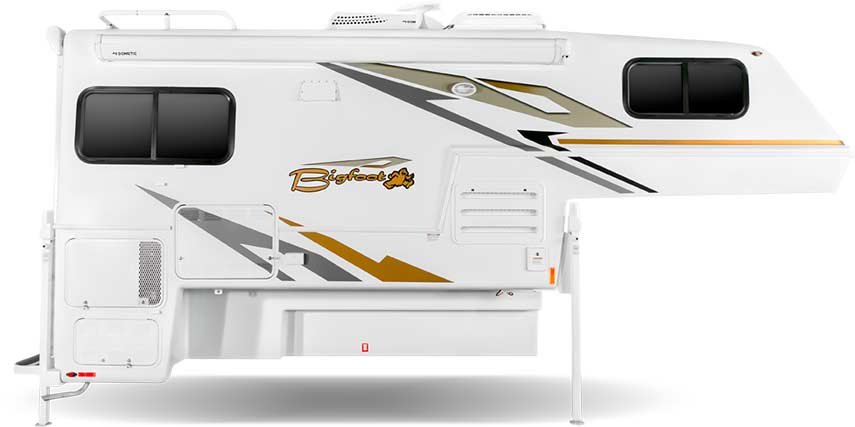 ---
Eagle Cap Campers – This brand hails from Yakima, Washington, and includes six models of hard side campers. These campers are framed in aluminum and come with a pinch roll system.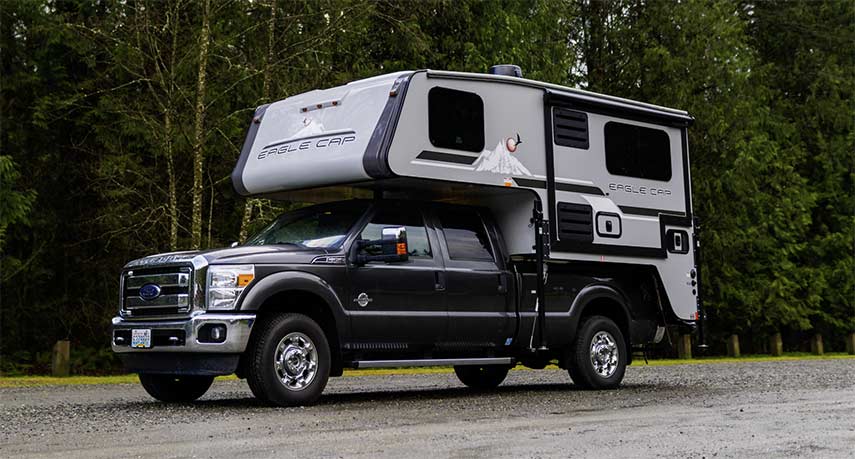 ---
Pop-Up Truck Bed Campers
The other popular option for a truck bed camper is the pop-up camper. These campers are very similar visually to the slide-in camper. However, the big difference here is that the roof of this camper is designed to drop down onto the main body.
This makes the camper's height a lot lower than the previous type of camper. When closed, this camper has a nice streamlined profile that makes your truck less top-heavy.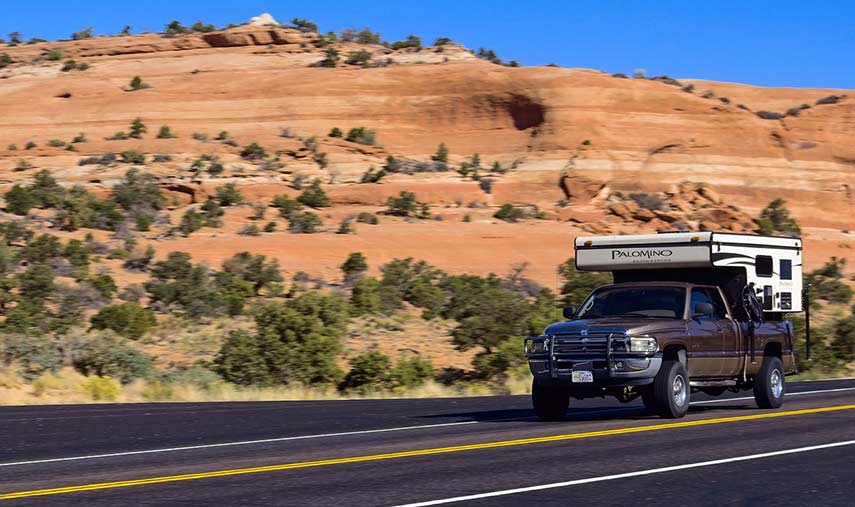 There are some big benefits to pop-up truck bed campers over the slide-in style. The camper is able to achieve its pop-up design by having soft walls that easily fold as the roof is lowered. The soft walls are usually made from canvas and are not strongly insulated.
This doesn't provide as much protection from the weather as solid walls, but it does mean lower weight for your truck and a less top-heavy profile while you travel. Less weight and a smaller profile make this type of camper a lot more popular for people who like to go off-road with their trucks and campers.
Slide-In Campers vs. Pop-Up Campers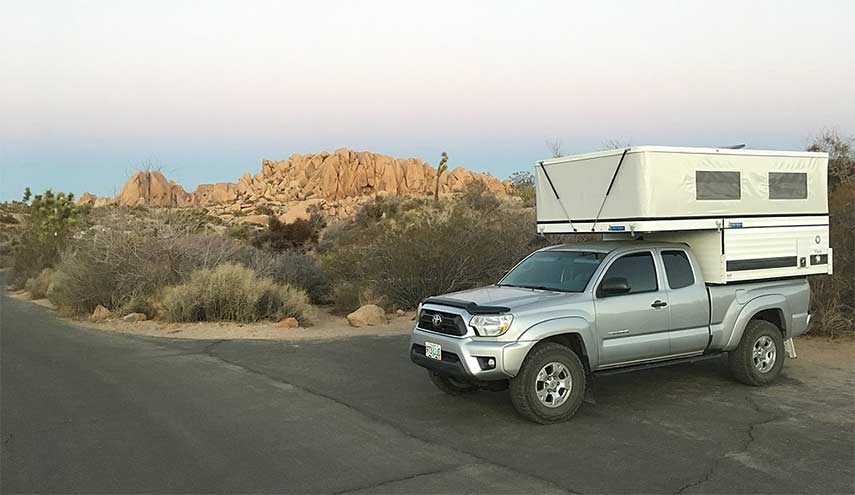 There are some pop-up truck bed campers that have close to the same amenities as a regular RV, but it's more common to buy one that just has the basics, such as a removable toilet, freshwater storage, and an optional refrigerator. Pop-up campers are more about having a lighter weight and a lower profile versus having lots of amenities. A pop-up camper will protect you from the weather and give you more protection than a regular ground tent. However, it lacks additional insulation and amenities versus a hard-sided camper.
Pop-up campers may or may not have a rear overhang and the main sleeping area is usually in the cab-over section. The interior is similar to a slide-in camper in that it has a seating area, a small kitchen, and possibly a separate toilet. The pop-up is very no-frills compared to a slide-in camper, but it does have the benefit of a much lower profile for your truck.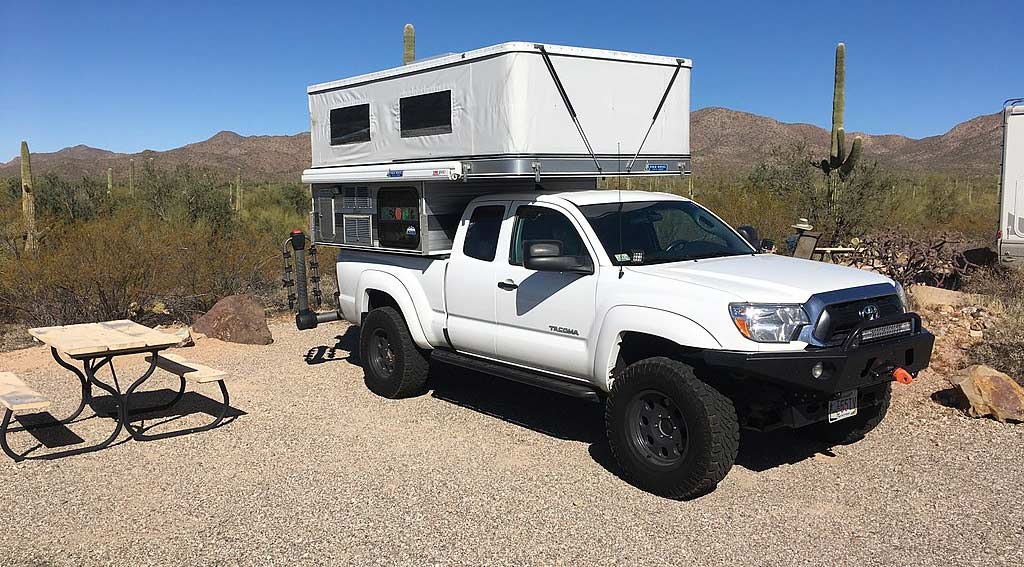 The price range of a pop-up versus a slide-in is between $8,000 and $42,000 for a pop-up and $10,000 to $70,000 for a slide-in. For a slide-in, you're obviously paying more for hard walls and more amenities.
Pop-Up Camper Pros and Cons:
Pro: Very lightweight and low-profile, which is great for half-ton trucks.
Pro: Good choice for off-road people who want more than a tent.
Con: Sparse and no-frills interiors.
Con: Light canvas sides do not protect from extreme heat or cold.
Popular Pop-Up Camper Brands
Alaskan Campers – This brand comes from Winlock, Washington, and offers nine models, including a short bed and a long bed version.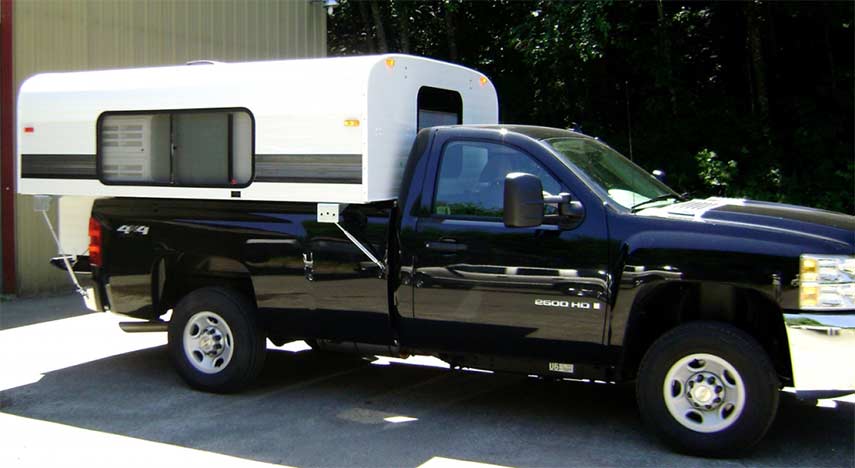 ---
Hallmark Campers – Coming from Fort Lupton, Colorado, this brand makes seven models and includes both short-bed and long-bed versions.
---
Palomino Campers – This brand actually makes both slide-in and pop-up campers. They make six models of pop-up campers.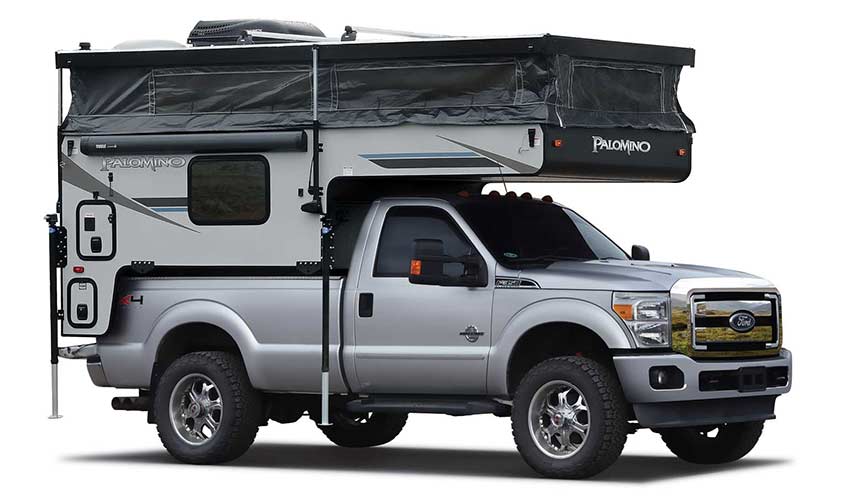 ---
Prevent wear and damage to your truck bed with DualLinerbed liners. Our truck bed liners offer a perfect custom fit that keeps water and rust out and eliminates costly scratches and dings. A truck bed liner by DualLiner also comes with a non-skid rubber mat to help keep your cargo firmly in place.