Many automakers right now are going all-in on electric vehicles, and that includes trucks. There are a few electric trucks already available, the most notable one being the electric Ford F-150.
The traditional Ford F-150 continues to be the most popular and best-selling vehicle in America, and it's quite likely that it will pick up a whole new legion of fans with the electric version.
If you're looking at an electric Ford F-150 and want to find a durable truck bed liner that fits, then DualLiner has you covered. Our F150 bed liner will perfectly complement your Lightning EV and protect the bed from dings, scratches, and water.
Let's take a closer look at the electric Ford F-150 and some of the other new and coming soon electric trucks.
Ford F-150 Lightning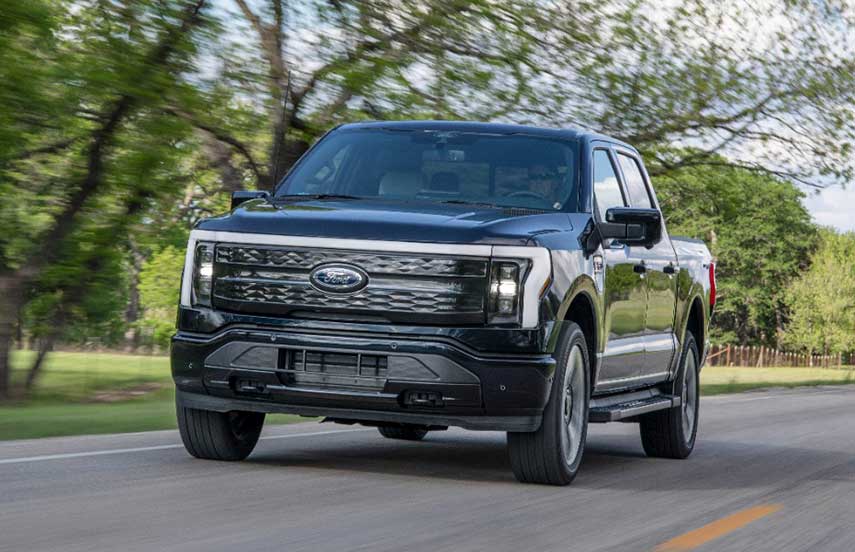 The F-150 Lightning is already sold out for the 2022 model year and Ford's official site urges prospective buyers to contact their Ford dealers for more information about buying the truck. However, the F-150 Lightning is exciting for many reasons.
The first of which is that it's a straight import of the very popular F-150 into an electric format. Ford also put a lot of effort into this truck, including giving it a 2,000-pound max payload and a 10,000-pound max towing capacity. That makes the Lightning very solidly competent as a work truck.
The Lightning also comes with another neat feature that can improve your everyday experience as well. It offers a generator that features bi-directional power to allow you to charge another EV or, even more amazingly, keep your entire house powered for up to three days in the event of a power outage.
It's pretty clear that Ford's biggest concern now is keeping up with demand. The Lightning's range is 300 miles and it has a starting price of $39,974.
Let's take a look at some other competitors for the Ford F-150 Lightning.
Rivian R1T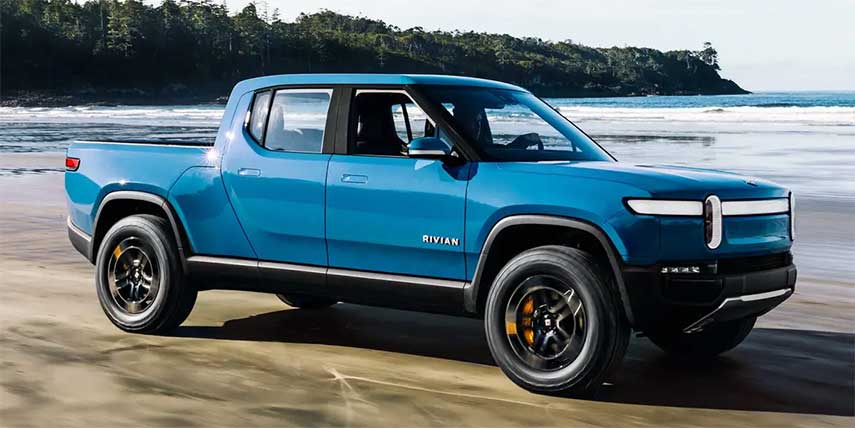 The Rivian R1T electric truck is one that most people have probably never heard of, but it's out now and it can haul 1,760 pounds and tow up to 11,000 pounds. The quad-motor drive puts out an incredible 800 horsepower and 900 pound-feet of torque. Rivian is based in Irvine, California, and the R1T is its only vehicle so far. The truck starts at $67,500 and is also fully equipped to go off-road with a range of 314 miles.
GMC Hummer EV Edition 1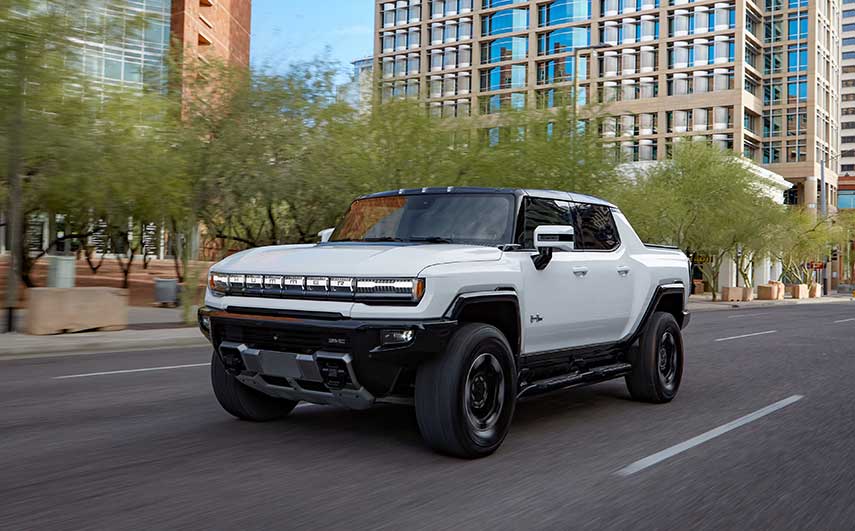 GM revived its Hummer nameplate to come out with this electric truck/SUV hybrid vehicle. The Hummer EV is no slouch though. It comes with a tri-motor system that puts one motor on the front axle and two on the rear. This gives it an extremely impressive 1,000 horsepower and 1,000 pound-feet of torque. With this kind of power, it's a bit surprising that the truck can only tow 7,500 pounds and haul 1,300, which is less than the first two trucks mentioned here. The truck has a range of 329 miles, but it also costs a whopping $112,595.
Chevrolet Silverado EV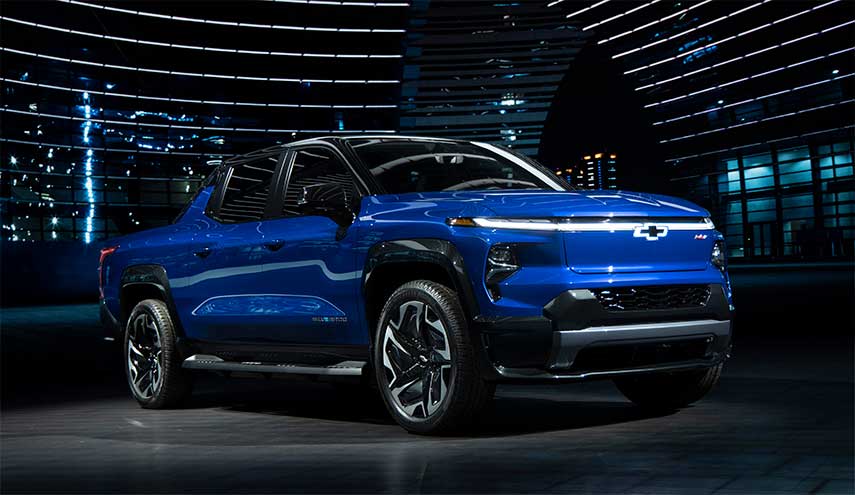 Naturally, Chevrolet wasn't going to let Ford release an EV pickup without coming up with some competition. The Silverado EV is expected for late 2023 and is more or less confirmed at this point in time. Like the Lightning, the Silverado EV is expected to excel as a work truck and be at home on the job site.
It's powered by a dual-motor drive that makes 664 horsepower and 780 pound-feet of torque. The max payload is 1,300 pounds and the max towing capacity is 10,000 pounds, just like the Ford. It's also expected to offer bi-directional charging power like the Ford and a range of 400 miles, but the current price estimate is a bit more than the Ford at $42,000.
It seems that the Ford versus Chevy rivalry will most certainly continue into the EV era.
Tesla Cybertruck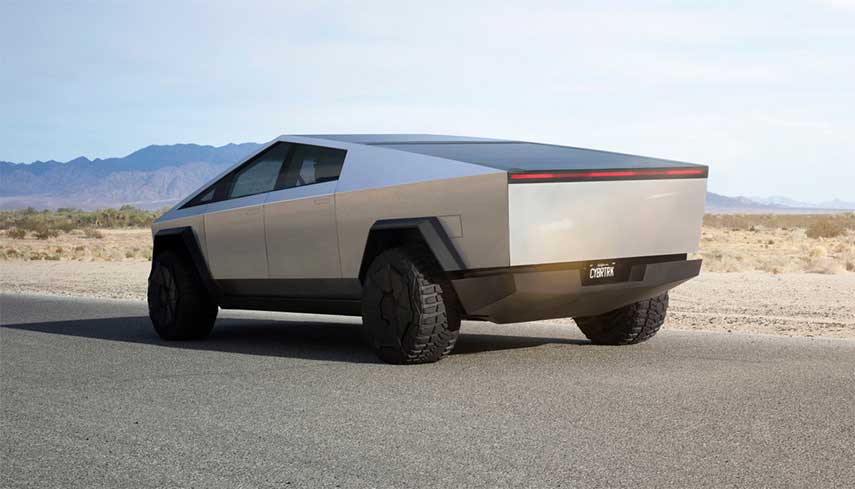 The release date for this futuristic monster keeps getting pushed further and further back, and right now, it's slated to come out sometime in 2023. However, that's not confirmed. The truck was announced way back in 2019.
The Cybertruck, whenever it gets released, will be pretty capable with a max payload of 3,500 pounds and a max towing capacity of 14,000 pounds. The range is said to be 314 miles and it's estimated to start at 67,500.
There are many other possible EV trucks coming to market in the near future, including an electric Nissan Titan, and several other trucks from startup EV companies such as Hercules, Alpha Motor Corporation, and Atlis Motor Vehicles.
Whether you're planning to get a Ford F-150 Lightning or currently own one of the popular full-size combustion engine trucks, DualLiner offers truck bed liners that fit. We have GMC Sierra bed liners, Chevy Silverado bed liners, and Ram bed liners for the regular non-EV trucks. We also feature bed liners for the Ford F-Series line, including a new Ford F150 Lightning bed liner.