There's little doubt that a pickup truck is one of the most practical and versatile vehicles out there. If you're a truck owner, you already know that, but it's also true that the average pickup truck bed could use a little help with carrying smaller cargo. For large bulky items, it's easy to simply tie them down and be on your way. However, smaller items require some type of cargo management system to stay safe and secure.
Before you install any type of truck bed organizer, your first step should always be to install a bed liner. Truck bed liners protect your factory finish and provide additional security for your cargo.
Benefits of Truck Bed Organizers
Without an organization solution, small cargo in truck beds tends to roll around and may even fly out if it's light enough. Your truck bed is also likely to attract clutter as it's often convenient to put various things in the bed and then leave it there. But the problem with storing things in your truck bed without an organization solution is that the items are unprotected from would-be thieves and extreme weather.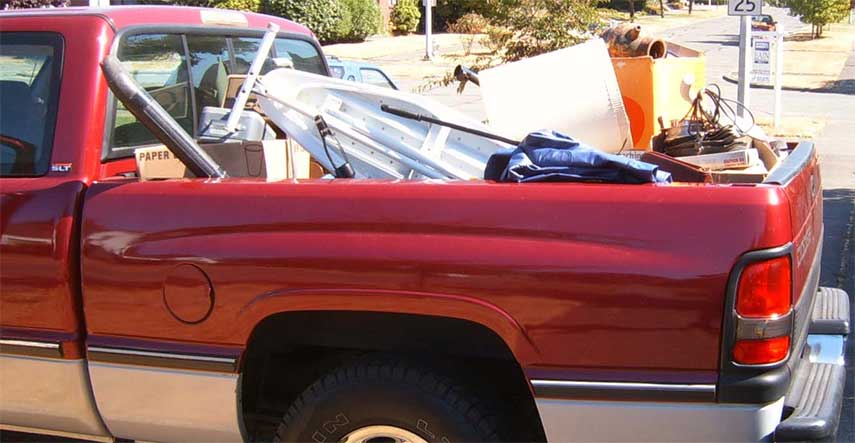 How To Choose the Right Truck Storage
Choosing the right truck bed organizer system for your needs depends on your truck and cargo. There are a ton of options on the market for truck bed storage. Some options are inexpensive and fairly simple, while others are more complex with endless options for customizing.
Knowing exactly what you need storage for is essential for two main reasons. One, the organization system needs to be the right size for what you're carrying. Smaller items require different solutions than larger items.
The second reason is that you'll want to make sure that your organization solution leaves enough space in your bed for anything else you need to haul. For example, if you regularly haul an ATV in your bed, you'll need plenty of room for it and any gear you bring along.
Best Truck Bed Organizers
Let's look at some of the best products for organizing your truck bed.
Decked Drawers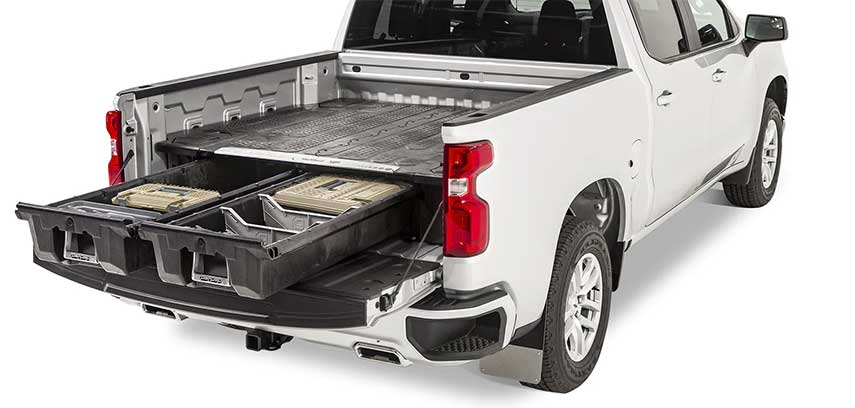 Decked Drawers have one big benefit–they give you both a hauling floor for large items and a storage system for smaller items. This product essentially reinvents your truck bed by creating a two-tier system. The deck is rated for 2,000 pounds, and the drawers beneath it cover the full length of your bed. Decked Drawers are not universal fit, so you'll need to find one that is designed to fit your particular truck.
UnderCover Swing Case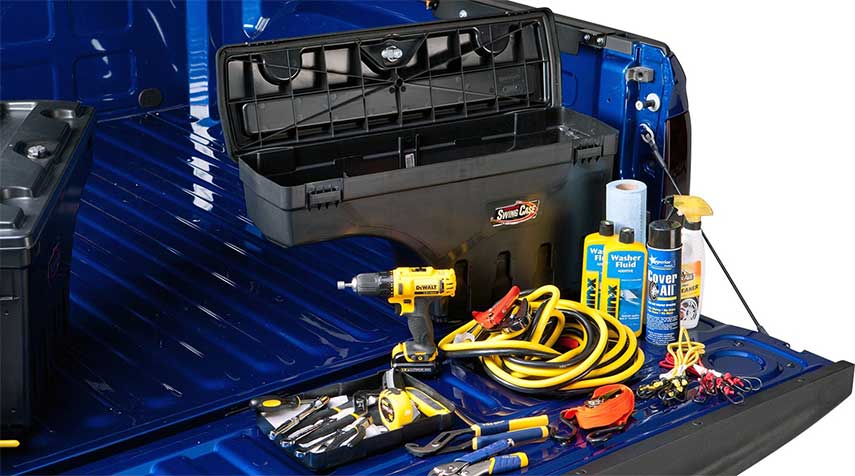 Installation of this product is quick and easy. The case swings almost 180 degrees so you can get into it from the side of the bed or the tailgate. Otherwise, it locks into place over the wheel well, leaving the rest of your bed free for other items. Although it only weighs one pound, it can hold up to 75 pounds of gear. The Swing Case can also fit under almost all tonneau covers.
BuiltRight Industries MOLLE Panels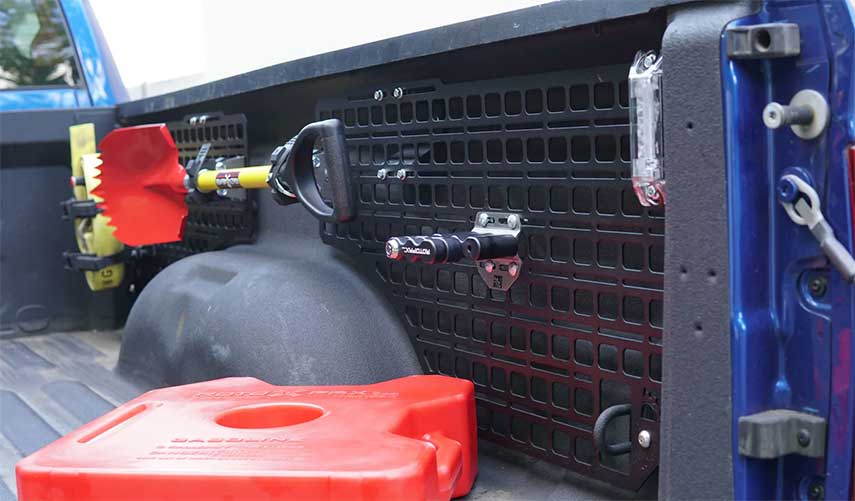 MOLLE is an acronym for Modular Lightweight Load-Carrying Equipment system. These panels are designed to take advantage of the wasted space on the sides of your bed. These bedside rack systems are customized for specific trucks and SUVs, so you'll need to get one that's made for your vehicle.
Pelican Cargo Cases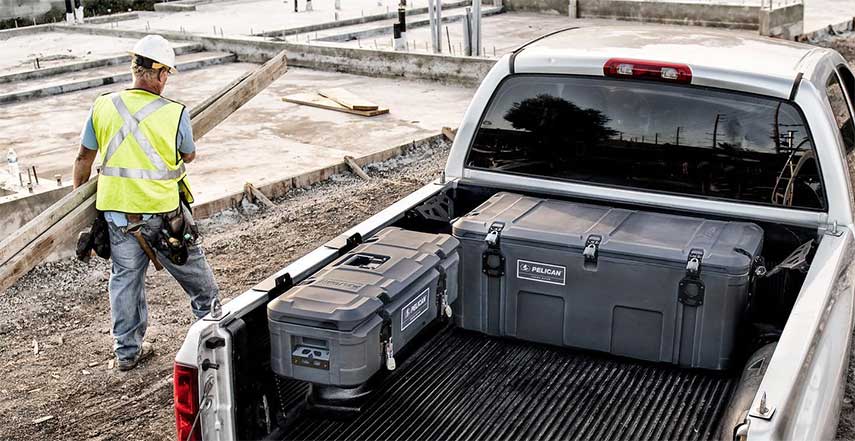 These cargo cases are available for nearly every major automaker that makes pickup trucks, including Ford, GM, Dodge, Jeep, and Toyota. They're also available in universal solutions. Cargo cases are built a little like toolboxes, but they are temporary storage solutions that can be easily removed and replaced in your truck bed. Integrated tie-down plates can be combined with Pelican vehicle mounting kits or used with standard ratchet straps or ropes.
Unruli Cargo Management Systems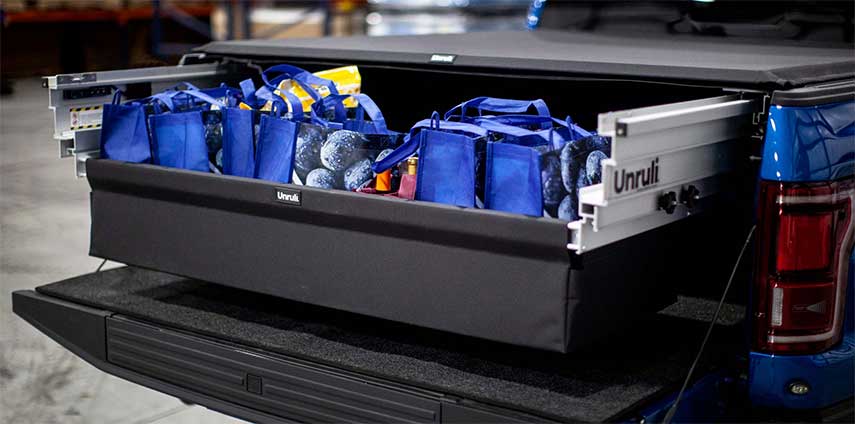 Unruli makes a tonneau cover with a removable cargo drawer. For those who already want a tonneau cover for their truck, this storage system is a great option to get both. The tonneau cover gives your truck a sleek look and makes it more aerodynamic, but then you also have a handy system of boxes or drawers beneath the cover to store all your items.
DU-HA Humpstor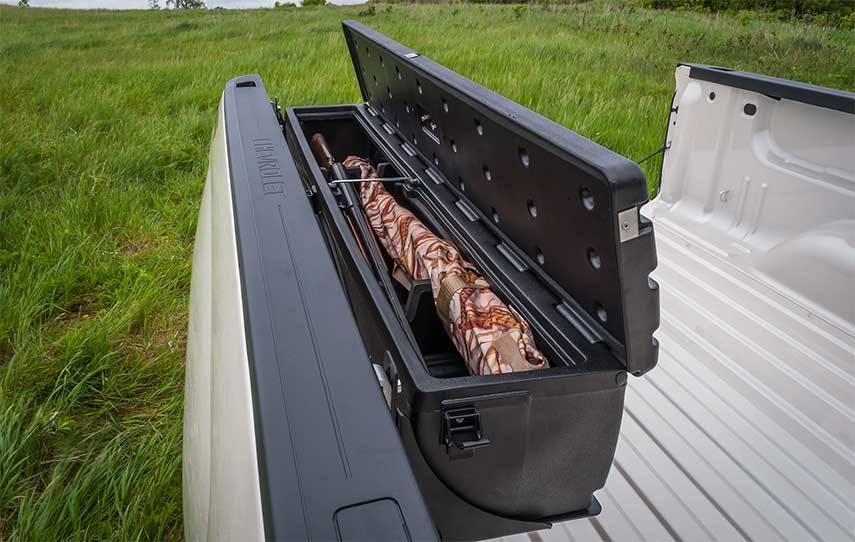 The Du-Ha Humpstor storage system is called that because it rides above the hump in your bed. The Humpstor attaches easily above the wheel well and gives you plenty of floor space in your bed to haul common cargo like plywood. The Humpstor can also be used underneath bed covers and is easily installed without any drilling.
TruXedo Expedition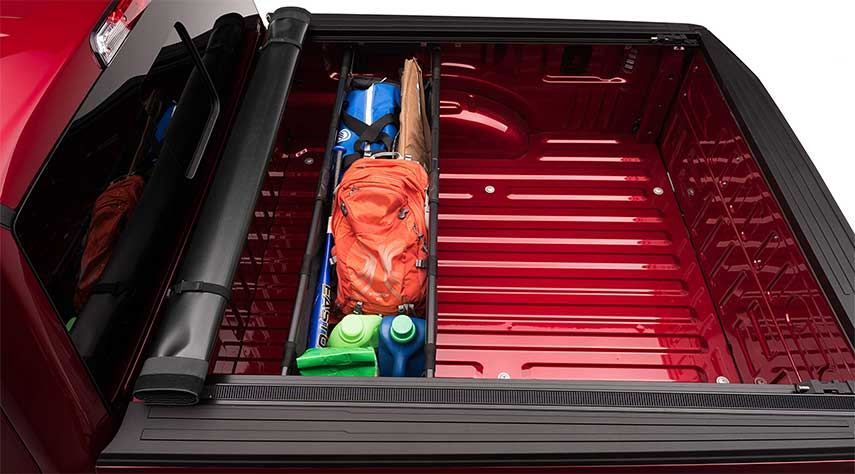 The Expedition cargo bag by TruXedo is a rail-mounted bag that gives you eight cubic feet of storage space. It's super simple to install and fits most full-size truck beds. This cargo bag will also fit under most bed covers and is made from weather-resistant material. It comes with inserts for extra customization options as well.
TruckVault All-Weather Line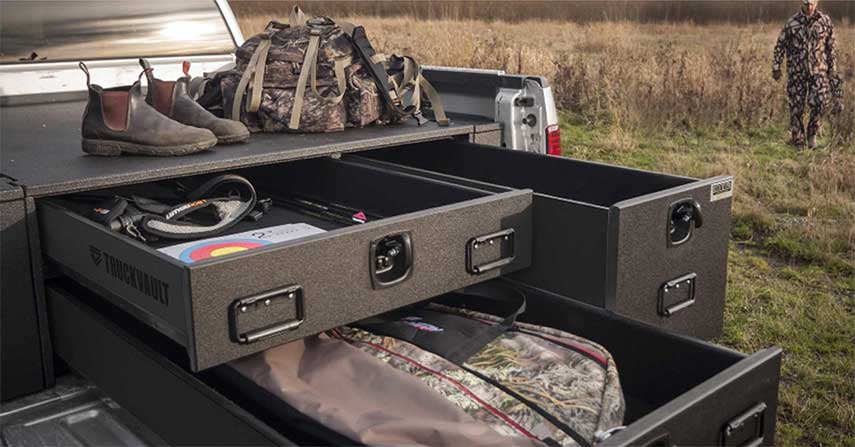 The TruckVault system gives you a drawer system with a rugged new bed floor on top. Most of the products in this line are two-drawer systems, but there are also options for one drawer or three drawers. Like other drawer systems, the big benefit here is that you get a new full bed floor for hauling larger items, while smaller items easily fit in the drawers below.
Adding an organizer storage system to your truck bed is a great way to get the most out of your truck and make it even more versatile. Before you start adding an organizer system or carrying cargo in your truck bed, make sure to install a DualLiner truck bed liner for the very best in rugged protection against rust and damage. DualLiner fits all full-size American truck brands.