If you use your truck for towing or hauling, you've likely heard about GVWR and know something about it. However, if you're new to towing or hauling – or the concept of a "Gross Vehicle Weight Rating" is a bit of a head-scratcher – we've made you this guide.
What is GVWR?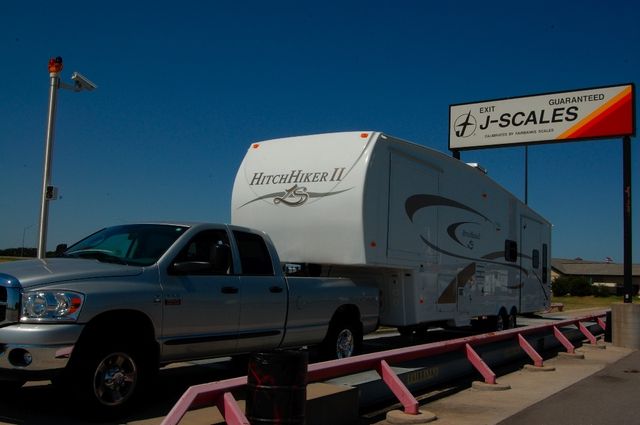 GVWR stands for Gross Vehicle Weight Rating, and it's a number that represents a maximum value of what your vehicle can safely weigh including payload.
To give you an example, your truck may have an 'empty' weight of 5,500 pounds (often called a "curb weight") and a GVWR of 7,000 pounds. The difference between these two values (1,500 lbs) is the maximum amount of "stuff" you can add to your vehicle safely.
NOTE: It's important to remember that the difference between your truck's curb weight and GVWR isn't a true representation of your vehicle's payload rating. You have to account for the weight of your cargo
and the following items:
Any passengers you're going to be carrying
The weight of the fuel in your truck's gas or diesel fuel tank
The weight of any accessories you've added to your truck (tonneau covers, toolboxes etc)
The "Tongue Weight" of a trailer (if you're towing…we'll cover this concept in a moment)
If you're not sure about your truck's curb weight, you can find out at any weigh station. Just be sure to put all the gear you normally carry in the vehicle to get the most accurate estimate of your truck's actual weight. Then, there should be a GVWR rating on a sticker on the driver's side door frame or in your owner's manual. Some simple math (GVWR minus measured curb weight) will tell you precisely how much cargo you can carry (and/or how much your trailer's tongue weight can be).
What About GCWR?
GCWR stands for Gross Combined Weight Rating, and it is also indicated on the sticker inside the driver's door of your vehicle. This is the maximum combined weight of your vehicle and your trailer that can be considered safe.
If, for example, your truck and cargo weighs 6,000lbs, and your GCWR is 14,000lbs, then your trailer must be 8,000lbs or less (14,000 GCWR – 6,000 curb weight = 8,000 for the trailer).
NOTE: The GCWR is about safety,
not capability. Many vehicles are capable of pulling far more than the rated GCWR. The issue is controlling the weight, not pulling it. The heavier your trailer, the harder it is for your vehicle to manage the trailer during turning, braking, etc. At some point, the trailer becomes too heavy to control…and that point is represented as a GCWR.
Gross Vehicle Weight vs Curb Weight
In simple terms gross vehicle and curb weight is determined by the difference of whether your vehicle is loaded or not. Curb weight is the weight of your vehicle with all the standard equipment and amenities, however this weight does not include any cargo or passengers. Curb weight is essentially the weight of your vehicle while it is resting on the curb and not in use. Gross vehicle weight on the other hand includes the added weight of passengers and cargo. Gross vehicle weight is exceptionally important to truck drivers, or potentially moving trucks, who may be carrying large amounts of heavy cargo that could significantly alter the weight of the vehicle. It is important to consider the gross vehicle weight compared to the curb weight when looking at any vehicle weight limits you may encounter.
What's a "Tongue Weight"?
When you connect a trailer to your vehicle, a percentage of the trailer's weight (somewhere between 10% and 20%) will be carried by your vehicle. The percentage depends on the design and size of the trailer…single-axle trailers, for example, have a fairly large tongue weight (as a percentage), while double and triple axle trailers end to have fairly low tongue weights (again, as a percentage).
Tongue weight is the same as cargo weight – at least as far as payload is concerned – so you can calculate your vehicle's maximum tongue weight capacity by comparing the GVWR to the weight of your vehicle when loaded.
To determine the actual tongue weight that your trailer adds to your truck (and remember, weigh your trailer when it's fully loaded), you can pull your trailer to the local scale, weigh your truck with the trailer connected, then disconnect the trailer and weigh the truck again.
You can also just weigh the trailer to obtain the GTW (Gross Trailer Weight), and then make sure that your truck can handle a tongue weight as high as 20% of the GTW. This is admittedly a high estimate, but it will give you a bit of a "cushion." If your truck can't handle 20%, you need to weigh the truck with the trailer to see if you're under the vehicle's GVWR.
NOTE: If the tongue weight is too high, you can try re-distributing the weight on the trailer to reduce the percentage of weight that's carried by the vehicle. Just know that you can't dramatically change the tongue weight this way, at least not without making the trailer more difficult to control…you want the weight on the trailer to be balanced, after all.
What Kind of Trailer Hitch Do You Need?
Hitches are classed in the following way:
Class I – 2,000 lbs max trailer weight
Class II – 3,500 lbs max trailer weight
Class III – 5,000 lbs max trailer weight
Class IV – 10,000 lbs max trailer weight
Class V – 10,000+ lbs max trailer weight
The way this works is that the hitch that you are using should be strong enough to handle the GTW (gross trailer weight) of whatever you have to tow. If you try and tow more than your hitch can handle, odds are good you'll damage your hitch or vehicle frame while towing.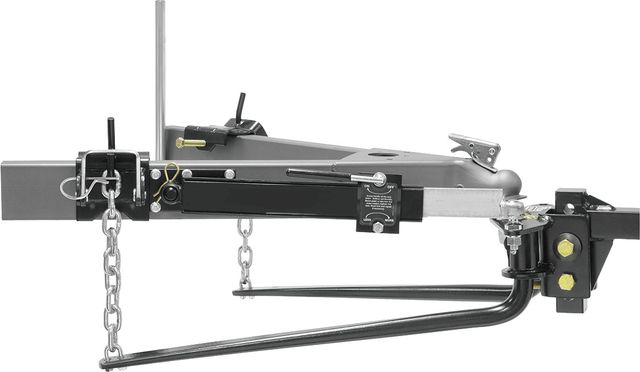 NOTE: Also, when you go to the larger Class IV or Class V hitches, you want a "weight distributing hitch," which ensures that the load/stress on your hitch is distributed across your truck's frame. This makes the trailer easier to control…fortunately, most newer trucks that are rated to pull 10k+ pounds have weight distributing hitch designs.
Don't Forget About Trailer and Vehicle Weight Distribution
Even if your truck/trailer/cargo combination comes in under the GVWR and GCWR, you still want to make sure your loads are all balanced. If you have all of the weight in a truck bed behind the rear axle, for example, it can make the truck's steering feel very light. Likewise, too much weight on the left or right side of a vehicle's cargo area (or on a trailer) can cause the vehicle or trailer to rotate left or right during braking.
The best way to lay out your cargo is as evenly as possible. Try and keep the load spread evenly over each axle as this will share the strain and make for a more comfortable, and safer, ride.
Click for Bedliner Comparison Chart>
Click for DualLiner Step-by-Step Installation Guide>