When you bought your truck, you probably didn't purchase it to save on gas (unless a helicopter was your trade-in). You bought your truck to do things and go places. Be it a workhorse, commuter vehicle, or off-roader, your truck does a lot for you — except letting you skip a few gas pumps on the way to where you're headed.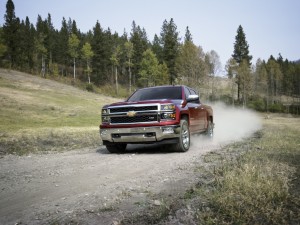 Here at DualLiner, we want to help you get the most out of your pickup, and that includes everything from making the best bedliner, to offering advice on getting the best fuel economy. Here are some tips we feel are the best for saving fuel after we tossed the idea around the office for a few days — and also talked with our bedliner customers who shared how they save on gas.
1. Take Driving Tips from Grandma
Your pickup burns fuel at a much higher rate when you accelerate with force. If you are flooring it between lights, you are burning through fuel at an incredible rate. Ideally, your acceleration rate should be around 2 mph gain per second, or 0-60 in 30 seconds. Now, we know that's pretty slow, and the odds of causing road ragers to lash out starting that slowly are high — but just keep it in mind and find a good compromise.
2. Don't Speed
Aerodynamic drag and wind resistance isn't an issue until your vehicle is traveling over 40-45 miles per hour. As your speed increases beyond this point, drag rapidly builds up. Once you hit 100 miles per hour (which isn't legal anywhere in the U.S. and you shouldn't be doing anyways), your engine is working overtime to compensate for that drag — and thus fuel economy suffers. If you're on the highway, your ideal speed is no more than 55 mph for the best fuel economy, any faster and you're burning up fuel at a less than ideal rate.
3. Properly Inflate Your Tires
Improperly inflated tires are a fuel mileage killer. Even with off-road tires, you can get decent fuel economy with proper inflation (well, unless you're rolling on some mudders…but that goes without saying, right?). Check your owner's manual (not the sidewall of the tire) for the best psi, but 32-35 psi is usually the best for truck tires. Anything below 30 psi is going to hit you in the fuel tank. However, overinflated tires will cause the tires to wear much quicker and even split, so stay in the recommend range.
4. Put Your Tailgate Up
Once upon a time, we all thought letting our tailgate down would help our fuel economy, but that's been proven to be a myth time and time again. Dropping your tailgate or taking it off hurts your fuel economy, as do those "net" tailgates. Don't bother.
5. Maintain Your Vehicle
Scheduled vehicle maintenance can go a long way when it comes to fuel economy. Change your air filter, oil and oil filter, rotate your tires — all that good stuff you know you should be doing anyways. Your truck will repay you in efficiency.
6. Put Your Cargo on a Diet
Look around the cab of your truck, what do you see? If it's like most trucks, there's probably your kids' book bags, a case of bottled water, some old books your wife keeps telling you to donate, etc. All of those things add up. If you can take out 100 pounds worth of stuff that's loitering in your truck, you can expect to see a 1-2% improvement in fuel economy.
Sidebar – This is one of the reasons many automakers are selling new cars without spare tires. Not only does selling a car without a jack or a spare save money, but it also reduces vehicle weight and improves fuel economy. Fix-a-flat is cheaper and lighter than a real spare tire.
7. Consolidate Your Trips
It takes about 15 minutes to get your truck to its ideal operating temperature for peak performance. When you make little trips here and there, then come home, wait a while, then go back out — you're burning up gas in a less-than-efficient manner.
By consolidating your trips, you'll use fuel at the most efficient rates. Additionally, you'll reduce engine wear with this tip too.
Use these tips to improve your truck's fuel economy, then add the DualLiner to the bed to maximize it's durability — and you'll have the best truck on the block.