Buying your used or new Ram truck was just the first step in your Ram truck owner's journey. The second step is to make your Ram stand out from all the other Ram trucks on the road.
Fortunately, Ram trucks have big aftermarket support, and it's not hard to find some great truck accessories to make your Ram more functional, more durable, and more visually appealing. Let's take a look.
Dodge Ram Bed Liner by DualLiner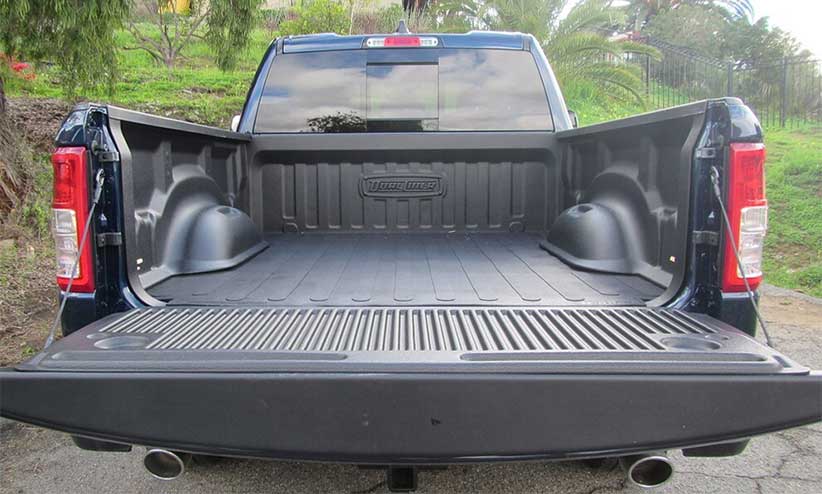 One of your first Ram truck accessories should be a Ram bed liner by DualLiner. Truck bed liners are an extremely important purchase to protect your bed and ensure that you can haul whatever you want without causing damage to your original bed finish.
Unlike spray-in bed liners, a DualLinertruck bed liner is strong and durable and made for a precise fit. This precise fit ensures that rust-causing moisture will not find its way beneath the liner and into your truck bed. DualLiner carries:
The only caveat to know is that these bed liners won't fit Ram trucks with a Rambox.
BAK Revolver X4s Bed Cover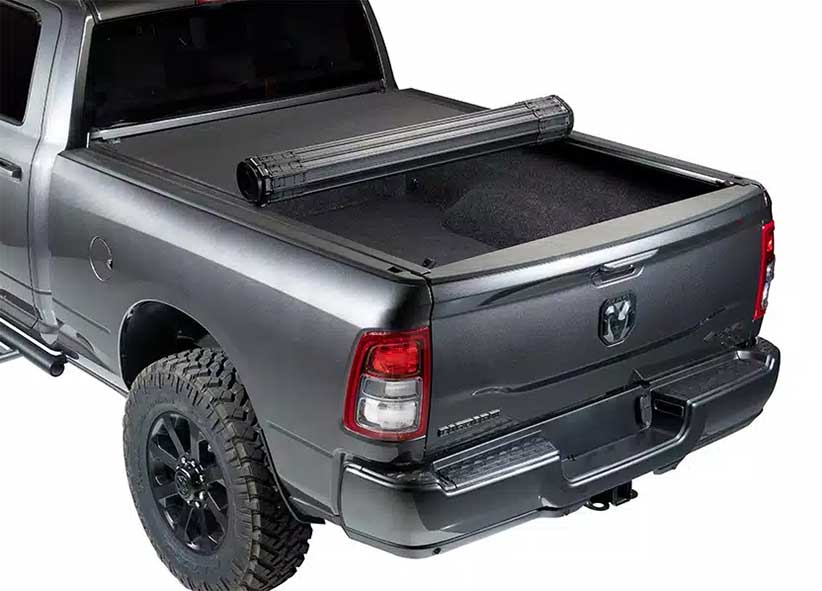 Along with protecting the original finish of your Ram truck's bed, it's also a good idea to have the option to protect your cargo. This bed cover uses a layer of vinyl with several powder-coated aluminum slats, which allows it to protect your cargo from the elements.
The cover rolls open easily and can then be secured in place at the bulkhead to give you the option of hauling large items. When the cover is fully shut and your tailgate is locked, your truck bed is even more secure than your cab.
Cargo Nets and Bags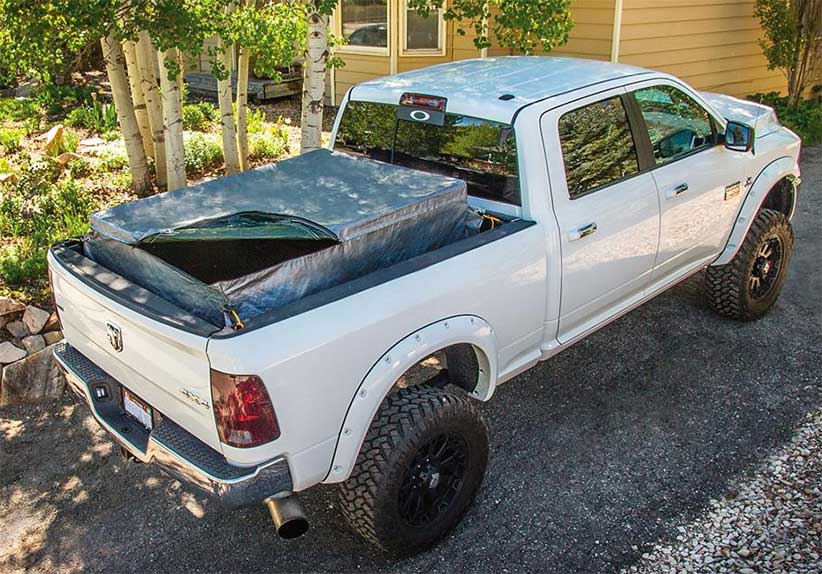 Now that your bed is secure and safe, what about your cargo? Unless you're hauling a full bed of fairly large items, a lot of your cargo has the potential to shift and move around. Depending on what your cargo is, this movement could damage your cargo.
That's what cargo nets and bags are for. You can use a net as an alternative to tying down everything in your bed, and bags are good for keeping various types of cargo separated and immobile.
ICI Magnum RT Steps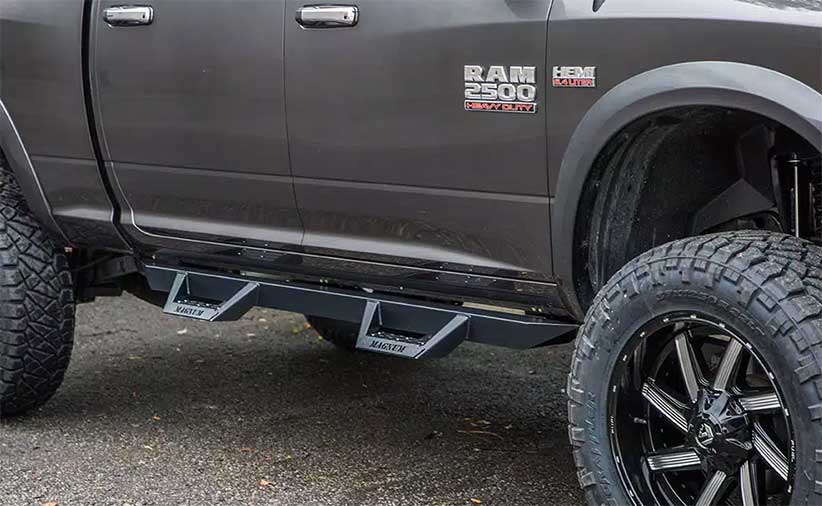 Getting in and out of a tall truck can be difficult for many people. If you want to give your Ram truck a more unique look and make sure that you and your passengers can easily get in and out, then you should consider these side steps by ICI.
These steps bolt on easily with basic tools and offer a 350-pound weight rating. The steps are located directly below the door, so it won't hamper your ground clearance off-road either. Each step has a grippy tread plate for secure footing.
Seat Covers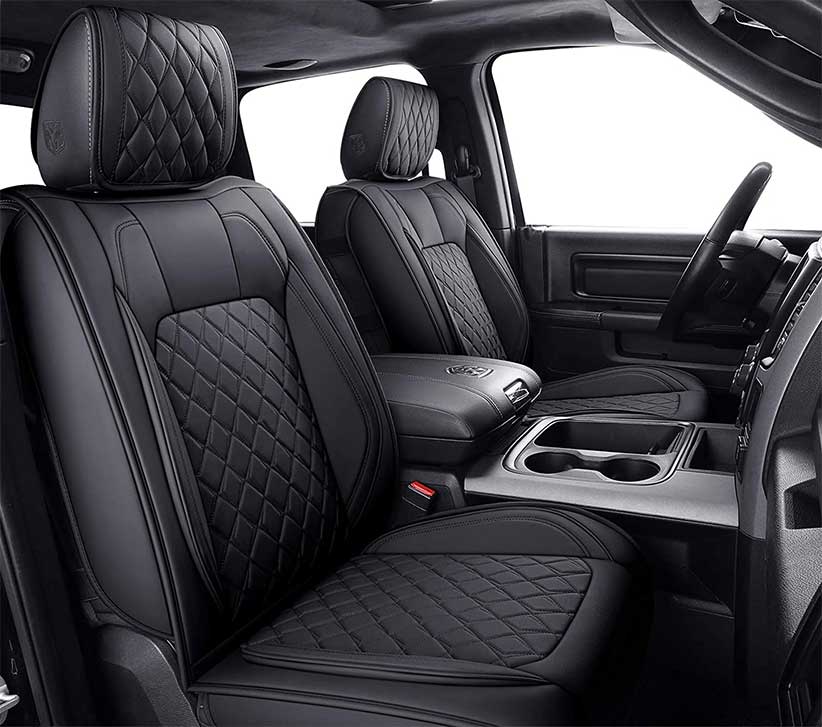 You can think of aftermarket seat covers a bit like bed liners for your interior. The purpose of seat covers is to protect your original upholstery from damage.
There is a wide range of different seat covers on the market, and some are aimed at how you use your truck. For example, waterproof seat covers or covers that resist pet hair.
You can get seat covers only for your front seats or rear seats, or you can outfit both in matching covers for a custom look inside. The good thing about seat covers is they can be removed and washed, unlike your original upholstery.
Ranch Hand Grille Guards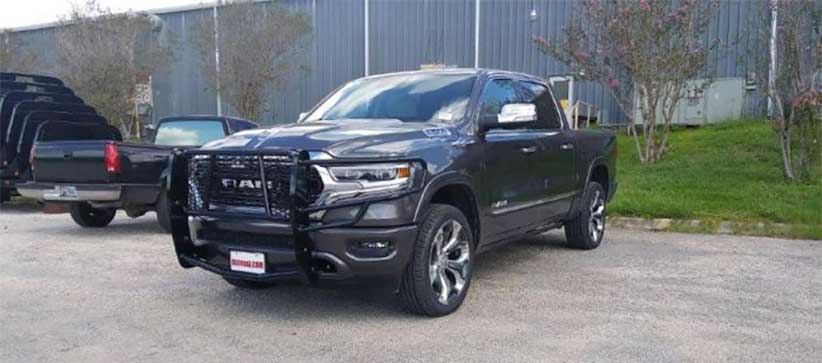 Grille guards provide protection for your front end, but they also give your truck an aggressive visual appeal. Grille guards and brush guards come in a lot of different styles.
These grille guards from Ranch Hand have custom punchouts for your grille and lights. They are also easy to install with existing bolts and basic hand tools.
Fender Flares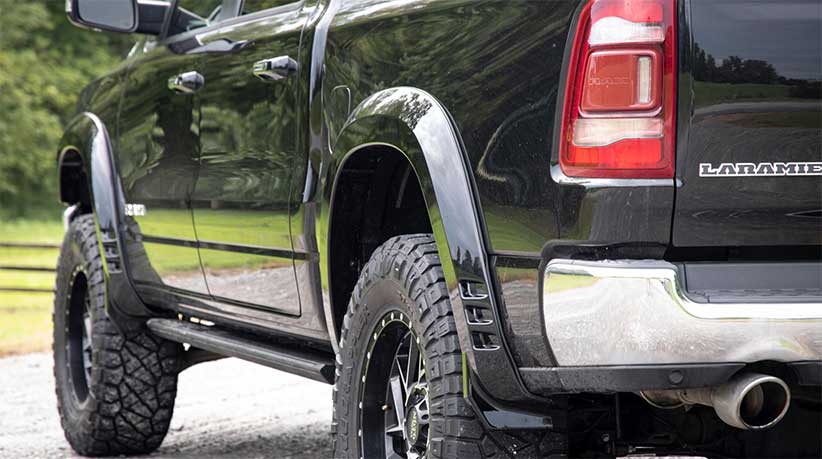 Fender flares protect your side panels from dirt, mud, and other debris that can be thrown up by your tires. There is a wide range of fender flares available, including extra-wide ones and super slim ones.
You can get them painted to match your truck's exterior color, or you can get them in contrast colors for a unique look.
Decked Truck Bed Storage System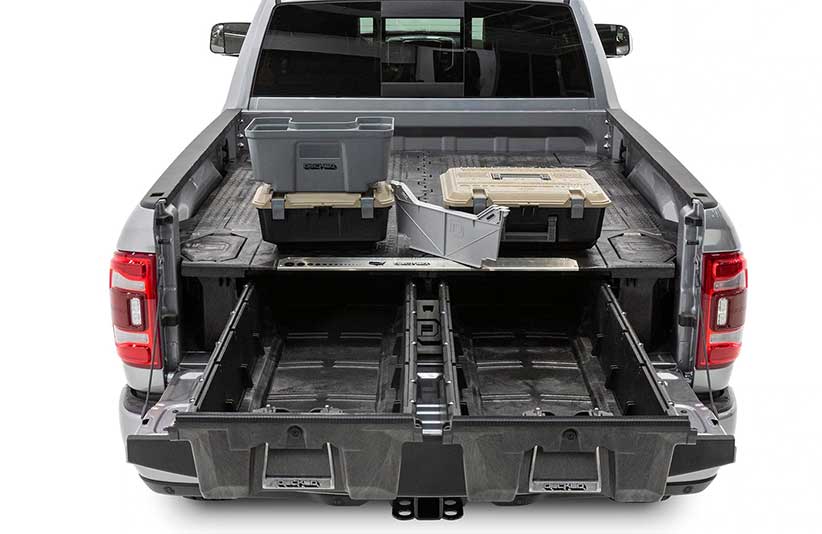 A truck bed storage system like this one from Decked can be used with your DualLiner bed liner. This is another way to make your truck bed more versatile in hauling different types of cargo. The drawers allow you to carry smaller cargo and the second deck allows you the full use of your bed for larger cargo.
Ram Truck Accessories
This list only scratches the surface of the vast array of aftermarket accessories available for Ram trucks. Start your Ram customization journey with a DualLinerbed liner. Your truck bed is one of the most important parts of your truck, so it makes sense to protect it.
DualLinerbed liners are constructed with precisely interlocking parts and a no-skid rubber mat to ensure a perfect fit and make sure that the liner stays water-tight.