Do You Have an Old and Faded Spray-In Liner? DualLiner is the Perfect Solution
DualLiner's modular truck bed liner has plenty of benefits over spray-in liners. Its patented dual-technology makes it the most effective and innovative truck bed liner on the market. Do you feel like you're missing out? If you want to switch to DualLiner but feel stuck with your current spray-in liner –don't fret! Replacing your worn-out spray-in liner is easier than it looks.
For years there were only two options for truck bed protection: cheap drop-in liners or spray-in liners. When they first hit the market, spray-in liners caught attention for their sleek finished looks, which were made possible by sanding down your truck's paint job to install them. It wasn't long before owners of spray-in liners noticed their sleek finish was starting to fade and leave behind a chalky residue.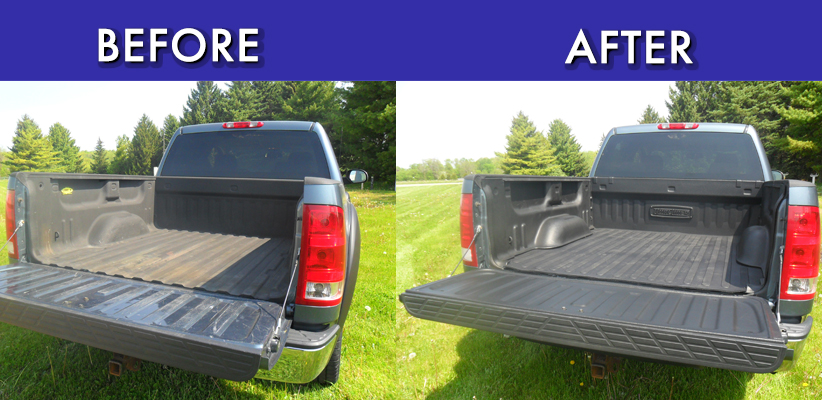 Most spray-in liners are epoxy-based, and long-term exposure to UV rays makes them cracked or faded. If they're exposed to chemical spills, these liners can also be permanently discolored.
The problems with spray-in bed liners don't end there. Spray-in liners are supposed to be between ⅛ to ¼ inch thick, but each spray-in's individual thickness and quality are left up to the installer.
A poorly-installed liner might have uneven thickness. This makes their protection less effective and can cause extensive bed damage, which can in turn lead to costly repairs.
Because spray-in liners are permanently attached to your truck bed, any damaged or discolored material needs to be completely stripped and reapplied, which is a laborious, expensive process.
If you're one of the many truck owners with spray-in liner that's been dented, faded, or stained, you may think you have no choice but to eat the cost and have it repaired. Instead of putting money towards repairs, picking up a custom-fit DualLiner truck bed liner is a much more effective solution.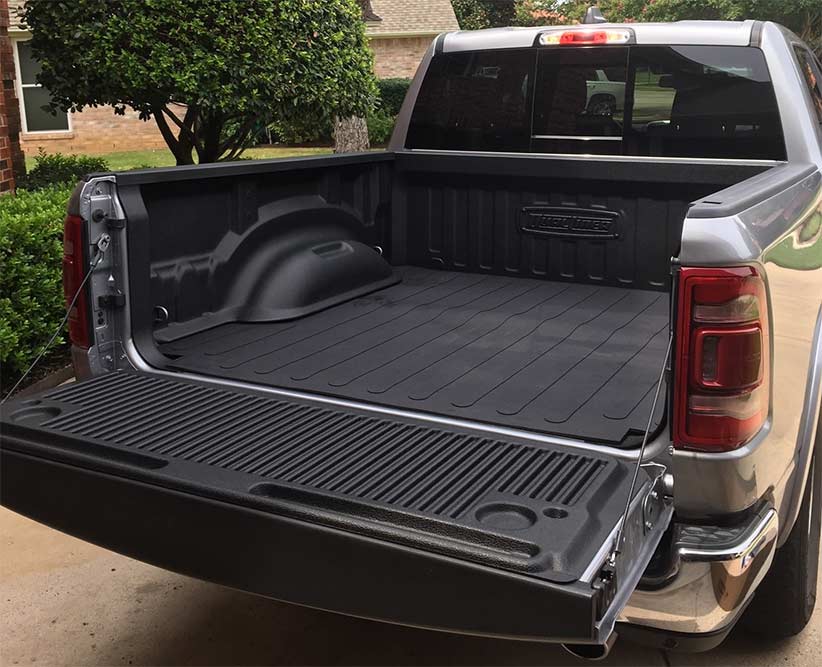 You can install the DualLiner system directly over your faded spray-in, instantly restoring your truck's looks and giving your truck bed the best impact protection and stain protection on the market!
DualLiner's multipart system is the perfect upgrade for any worn spray-in. With DualLiner you get a combination of impact-resistant sidewall panels and an ultra-thick ⅜-inch ZeroSkid rubber mat for your bed floor.
These pieces give your cargo extra grip and your bed extra dent protection, something you can't get from a simple spray-in. Spray-in liners are prone to fading, cracking, and chalky residue, but the DualLiner's sidewalls come with high-quality UVA and UVB protectant that prevents sun damage for life.
Best of all? With DualLiner, you can skip the appointment. Spray-in liners need to be applied by shops, which require you to wait days or weeks just to get an appointment.
Installing a DualLiner system can be done in your garage, takes only half an hour, and is available at a fraction of the cost of spray-in liners. Every DualLiner also comes fully covered by a Real Lifetime Warranty, which is unheard of in the industry.
Don't stress out over the aging, damaged spray-in liner making an unsightly appearance of your truck. You don't need to have it repaired or replaced; you can easily restore your truck's looks with the DualLiner. For the best protection, the cleanest style, and the most reasonable price, go with DualLiner.