Your pickup truck is one of the most versatile types of vehicles on the market. You can tow, haul, plow, go off-road, and much more with a pickup truck. You can also camp by using your truck bed as a base. The obvious answer to truck bed camping is a camper, however, there are many other ways to use your pickup truck for camping. Let's take a look!

Camping Options For Your Truck
There are multiple ways to camp out in your truck bed. Which type you choose depends on your preferences for convenience, comfort, and space. Some types are also more affordable and easier to set up than others.
Ground Tent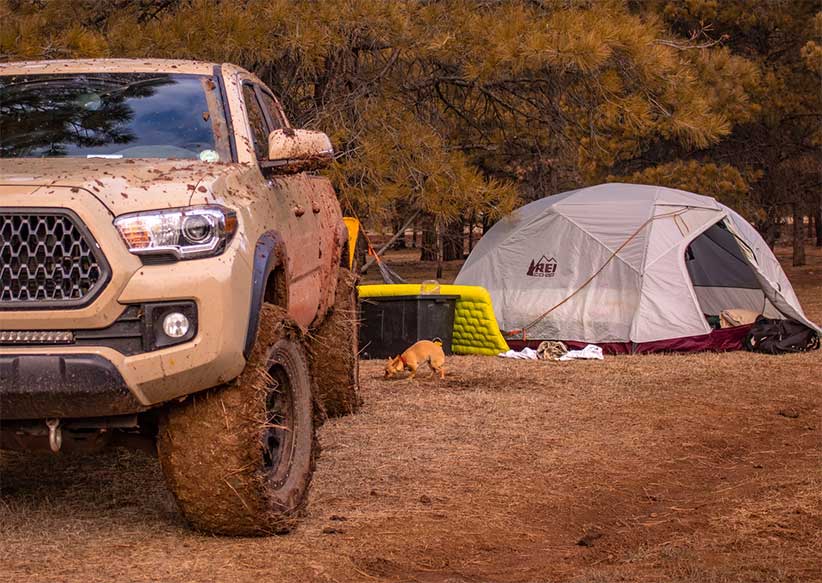 The most straightforward option for camping with your truck is to use a regular ground tent. This is simply a tent you would set up on the ground near your truck.
Bed Tent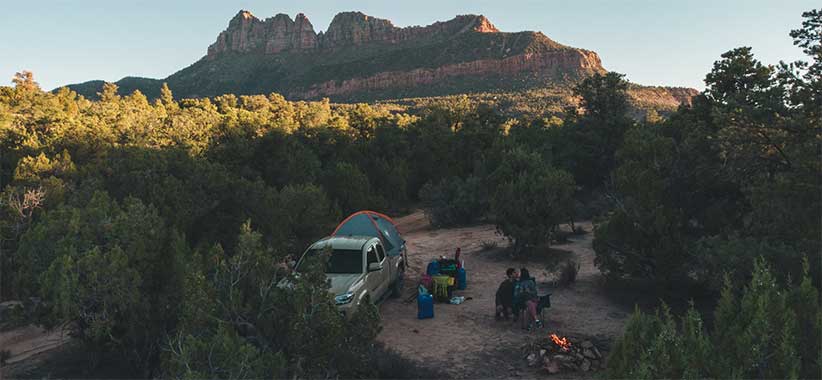 If you want to camp directly in your truck, then the next most straightforward option is a truck-bed tent. This type of tent straps to the sides of your truck bed and then uses tent poles to reinforce the rest of it. A truck-bed tent gives you the benefit of being off the ground, while still being pretty simple and easy to set up.
Rooftop Tent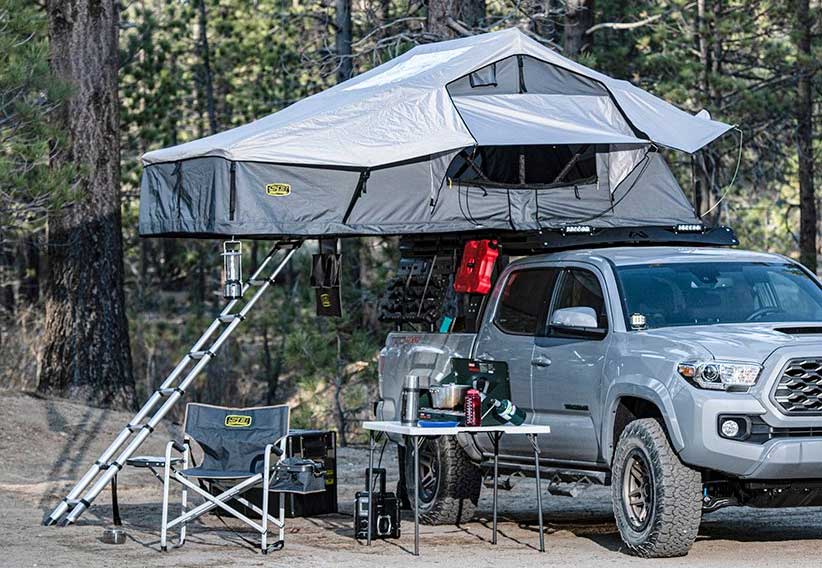 You might not think a rooftop tent would be an option for a pickup truck, but they work just as well as they would for an SUV. This is especially true when most modern pickups are four-doors and have similar rooftop space to an SUV. All that's needed for a rooftop tent is a rack system. The rack attaches to the sides of your truck bed and extends across the entire bed. The tent attaches to the crossbars, which means you can still use the interior of your truck bed for gear. You can choose from varying heights, including below the roofline, or at the roofline. Some shells for truck beds have weight ratings that allow you to attach a rooftop tent directly to the shell.
Camper Shells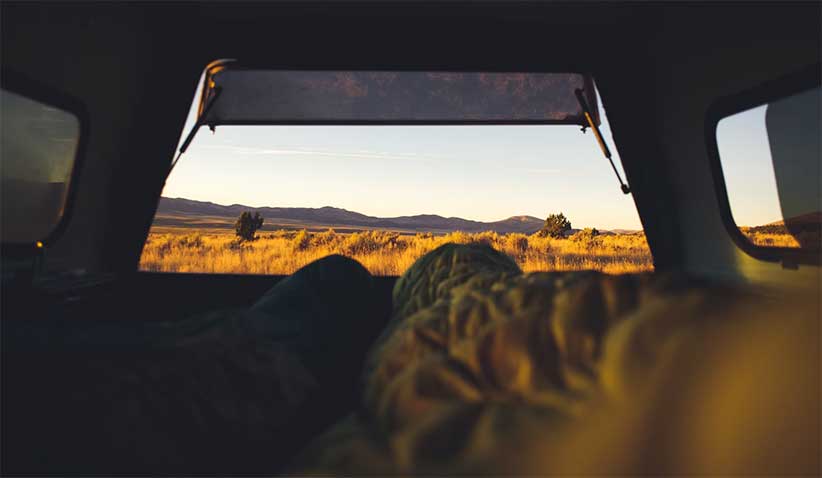 A bed shell and sleeping platform can also improve the sleeping experience in your truck bed. Truck bed shells are generally constructed from fiberglass and designed to fit over your entire bed. A sleeping platform adds cargo space beneath it and can be used for a queen-size sleeping space. The main downside to this method is height. The camper shell gives you shelter from the weather, but it also reduces headspace. Some people might enjoy the cozy confines of a camper shell, but others might find them too cramped.
Slide-In Camper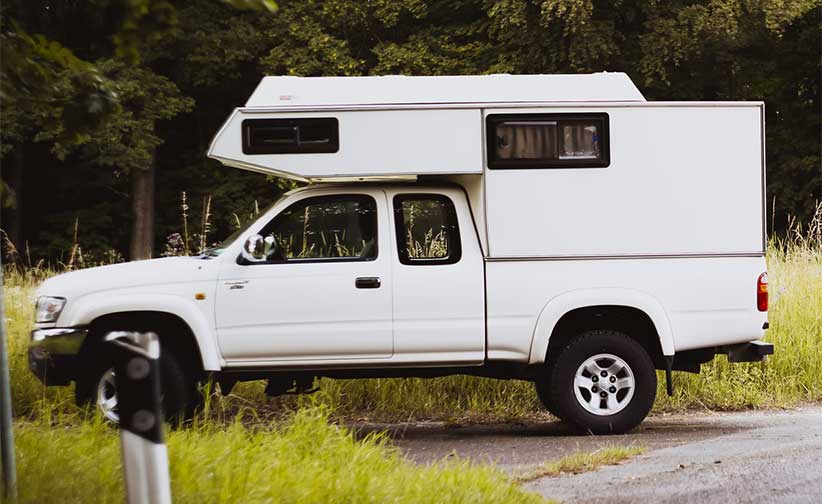 This camping option is quite a bit more expensive than most of the other options presented here. A slide-in camper slides into the truck bed like a puzzle piece. These campers come in many different sizes and with many different levels of niceties. Some are very basic and provide a sort of studio apartment space for your truck. Others offer popouts and the like to increase the space and make it more like a mini-home. Many of these slide-in campers also give you the option to extend the support legs and then drive your truck out from under the camper. This essentially gives you a tiny home, while also allowing you to drive your truck around without the camper.
Adventure Trailers
Finally, there are adventure trailers. These are your standard towable trailers that come in a very wide range of sizes and options. You can tow a simple tent trailer or a full-size travel trailer that includes multiple sleeping areas, a kitchen, bathrooms, and the like. Using a trailer isn't exactly the same as camping in your truck bed, but it is an option many people choose for camping with their trucks.
Five Extra Tips For Pickup Truck Camping
If your truck camping method includes essentially sleeping in your truck bed, it's a good idea to make sure your head is pointing towards the rear of your bed and not towards the engine. The reason is that the rear of most trucks and SUVs is slightly higher than the front. If you lay the other way, you'll find all the blood going to your head as you sleep.
When considering how much room you have in your truck bed, make sure to measure the tightest spot, which is usually between the wheel wells. If you don't have as much room as you thought, you might consider building or using a sleeping platform that puts you above the wheel wells.
You might think that your truck's cab is ultimately the best place to sleep, but it really depends on what type of truck you have. Rear bench seats may not be long enough or comfortable enough for many people. Some trucks have reclining captain's chairs in the front, but unless you like to sleep on your back, these probably won't be comfortable either.
Make sure to take extra clothes, extra water, and extra fuel. You never know what you'll encounter out in the wilderness, and these are definitely three essentials that can make a big difference.
You don't need 4WD to camp with your truck, but 2WD will limit where you can go. With 4WD and an enclosed camping option in your truck bed, you can camp out almost anywhere your truck can reach.
However you choose to camp in your pickup truck, it's a good idea to protect your truck bed with a bed liner from DualLiner. Our truck bed liners offer a perfect custom fit that keeps water and rust out and eliminates costly scratches and dings. A truck bed liner by DualLiner also comes with a non-skid rubber mat to help keep things in place.
Related Posts